Paytm Money launches stock broking with free delivery trades, intraday trades at Rs 10
Only for limited users i see
I am a beta user of the Paytm stocks app.
I must say the software is pretty minimalistic but feature rich too.They are also competing on the price front by charging 10 bucks for intraday.
I have always been a zerodha loyalist because the agility and nimble attitude of the team always proves benificial.Zerodha is considerably quick at embracing change and personally id like it to be at the top.
That being said,
Ive drawn a few conclusions after using both the apps and would like to point out certain measures which zerodha should take in my extremely humble opinion.
1.Integration of Coin and Kite.
I understand kailash's reasons about why the two shouldnt be integrated but i think we at least need an in app view of both stock and mf holdings compared to the view we have on console.Its a pain to toggle between the two apps.A complete integration would be even better.
2.The standalone coin app needs to include graphs and charts comparing returns to indexes,
Fd, inflatiom etc.It is very basic.Alot of additions like goal planning can be introduced.I understand that zerodha does not make money via coin anymore but the platform needs to be at par with the others notwithstanding the fact that there is no monetary gain.A platform fee can be charged annualy for the same.
3.Would love to see zerodha introduce a complete app for everything money including Stocks Mf insurance etc.
4.View of other indexes on kite.
5.Foreign stock investing whenever possible.
Ik its in the works.
6.Optimizationnof the trading window to occupy half the screen and order from trading view.
7.Fundamental data on screen within the app instead of being diverted to another app that takes up the whole page.
@nithin humbly request you to go through this.
I really appreciate you replying to all of my posts here.
Cheers,
Wishing the best for Zerodha always,
Manan.
How is the app performance?
Hmmm, no. That's not the reason why Coin is minimal

Just adding fancy bells and whistles increases the already noisy environment for investors. If something has to be added, it has to add value and that's our belief. Just adding 100 data points does more harm than good and there's enough data to show this. Having said, that we have some exciting things in store for Coin.
@Bhuvan Could you please mention the to do list? I see constant improvements are already done! But please consider to make TOP PRIORITY LIST, Provide Dark theme, Tradaringview Chart Layout saving, ChartIQ Price Points are very small on Large screen too! These are Some very basic necessary tools
Baskets will come next week, dark them in few weeks. TV saving layout will take more time as that has to be given by TV.
Din't get about chartiq, a bit more please.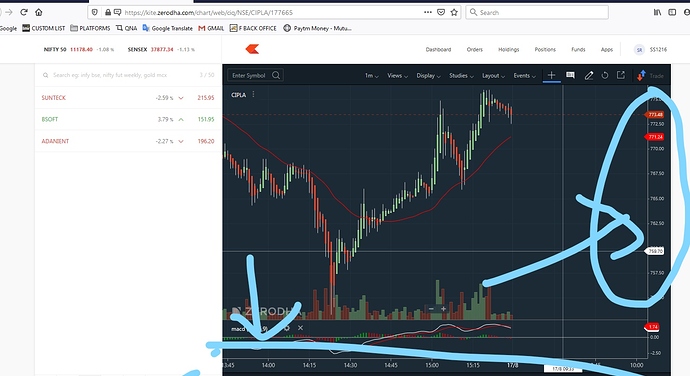 Really very small appearance on big Screen! Let user adjust the size! Like trading view! If we go set everything in tradingview! You know ? Shit cant save! and asking you since a year!
Haha the routine answer from zerodha would be we can't do anything about it, we will only release half baked product

too late … cause discount broking is already crowded.
too early … cause sebi is changing lot of things.
if a new entrant succeeds, it will be a good subject for business study.
Oh yeah it's really late stuff
Paytm Money is a safe and reliable online discount broker offering stock, mutual funds, Derivatives, NPS, ETF, IPO, and Digital gold investments to its customers.
any users of paytm money? all trades at flat 10rs? no hidden charge?
I don't remember but last time I checked there was something in charges …please check carefully.
Many brokers charge % brokerage when you sell . Some charge for the collateral margin they provide (yes even that 50% margin provided free at most discount brokers)