Blockquote
got from sharekhan
Blockquote
how come you alone got this ? !!!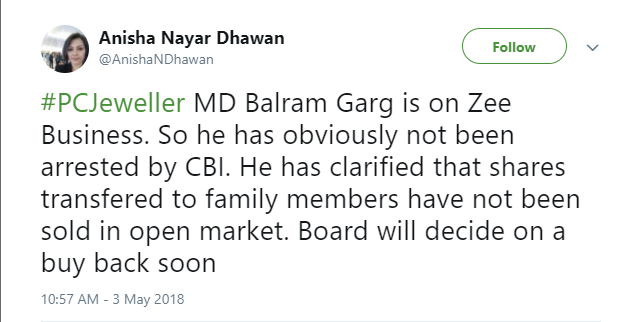 i got it from my RM, it's not only me , they must have given to their all client, difference is who shares and who not.
The fact that PCjeweller moved 3 SD moves in 4 days shows something is clearly wrong. Typically 3 SD moves happen like once a year and that too if news is really bad.
Institutions would never sell like this. This is definitely not institutional behavior. That leaves only on other party which can do this which are the insiders. If they are dumping the stocks means clearly they are going broke and are trying to salvage whatever profits they can.
Either way its crazy to hold on to this. The risk is simply not worth it be it for institutions or retail.
this should not be real reason for the fall…
operators are taking advantgae of its alleged links with vakrangee and the jewellary sector is in trouble because of modi saga
as per the report the person who got shares in gifts sold in couple of days after getting. i can't verify it and being below 0.5% can't see in bulk deals so no comments from my side, i only can say it if it's correct it is the reason for fall.
it's not mentioned it's a operator or institution, but the person who got it in gift can sell anyway, because there is no loss to him unless regulator catch him.
even if he has sold his shares instead of gifting his shares , fall wont be this deep …
i don't say the report is verified by me, above i have mentioned that i got it from sharekhan, but think logically if A gifts to to B and B sells about 0.4% of market cap with market orders 5-6 times in about 2 weeks, why a share cannot fall, have some practical approach
or can ask a BIG PLAYER ( if you come across ).
@bewakoof you got a preety funny name:


the news is out in the market as the report says

Yes, this was expected as the sell off was not from institutions.
So the insiders themselves have no confidence in the company management, why should institutions or retail be invested then?
dishonest management, but manageable debt and brand name is a point,
it could be inflection point if a good management gets the company as per PORINJU VELIYATH says about his studies of other companies.
i am not a value investor just trying to find logic.
In response to questions from investors, the company said in the April 25 filing that it wasn't aware of any reason for the sudden plunge that day in the stock's price. It denied that any founders had sold shares on the market, but revealed Gupta had made the gift of an undisclosed number to "his family member (s)." The company makes timely disclosures when required and its fundamentals remained strong, it said.
stocks got beaten down after the news broke out …
what i meant is operators pounded on the news and beaten the stock down…
even if the promotors sold 1 or 2% of the total shares , it wont go down from 250 to 100 levels…
lot many promotors do immoral things but they are not illegal under the rules…
like when reliance reduced their stake in RPL/RNRL , it shorted futures and sold their shares…
when one of the orchd chemiacl promoters were facing margin calls with his pledged share , other promotor was trading in it…
cant avoid
i am not saying it can or can't. i am assuming what can happen when management changes applying a value investing philosophy.
ok let me make you clear,
a company with market cap of nearly 7KCr having avg daily volume of nearly 5Mn, someone sells 2% of it means 140Cr/250(avg share price)= 5Mn+. means more than the avg volume will do some thing. and it will be drastic it the sold quantity is at market order.
this is correct it doesn't effect much when promoters sell their even more share, but in market promoters sell or buy with limit order, and this is the case of market order as looking.
even if you cant understand, first learn the effect of order types on market.
if they sell it in one go , then yes …
but if they liquidate slowly , then no…
let me give you one example which i wont forget …
Reliance industreis sold 5% of the RPL shares in 2007 without even getting noticed …