Right.
25% of VAR + ELM for Equity and SPAN + Exposure margin for F&O, which varies from stock to stock.
You can use the same margin for multiple trades.
So basically from September 2021 the maximum leverage given for intraday stock trading would be 5x for all the stocks?
Yes, the maximum leverage which can be provided will be 5x.
I have a querry if i am selling a stocks which are in my holding and my ledger is zero at the end of day if cover my sold stocks at lower levels. Will this be consider as intraday?
This is an edge case that will get treated differently in the new peak margin world.
The issue here is that if you have done this as an intraday trade without any margin in your account, there will be a peak margin penalty.
But we are working on a fix for this. If you have sold and bought back in CNC(delivery), we will debit the shares from your Demat and give it to the clearing corp (CC) on trade day (Early payin or EPI), which will get returned back on the same day to your Demat account. This way the shares debited and given to the CC can be considered as peak margin for your intraday short position. We are waiting on some clarity from the clearing corporations to work on this solution. But until then, there will be a peak margin penalty if you sell and buy back without any money in your account.
Check this link to understand more on EPI or Early payin.
Won't these regulations affect the liquidity of the markets adversely @nithin ? And what will be the impact of it on the long term investors?
He has given his take on main thread, please go through it. Also long term investor need not worry about these things.
I have just one question . As volumes and OI in options are likely to go down significantly will zerodha be able to allow it's traders to buy far otm Index options ? I had moved to a smaller broker but now I plan to come back to Zerodha as I believe most smaller brokers which thrives mostly on intraday leverage are going to go bust soon.
@nithin or @siva - can you please clarify the impact in the following scenario:
If I execute a short straddle for banknifty (dec 2020) for Intraday - I am placing orders for shorting 2 lots of atm ce and pe (say 28600 strike). As per the span exposure margin calculator:
A] combined margin is : Rs. 6,09,815
B] The margin benefit is : Rs. 2,68,387
C] Therefore the actual margin required is : Rs. 3,41,428
After August 2021, will the combined margin [A] be required or will it continue to be the margin after benefit [C] ?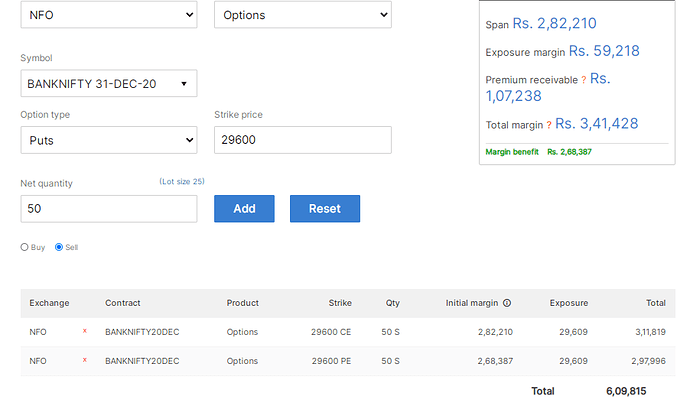 Please clarify - thanks in advance!
Kind regards,
DR
You will continue to get margin benefit, no changes in this rule.
Hello @siva @nithin
Sir I'm an intraday equity trader. Request you to plz explain me the Equity Intraday 5X Leverage from September 2021 onwards.
For Example TCS Equity is at Rs 2679 today. I can buy one share for my Intraday from you at Rs 220.
Now the VAR + ELM for TCS is 17.44
So from Sept 2021 onwards how much do I need to pay to buy one share of TCS Equity in Intraday going with the 5X Leverage and VARELM of 17.44 considering the share is at 2679.
Now I'm paying 220. How much from Sept 2021 ?
Plz help.
Given TCS is at 2679, with minimum 20% of trade value needed to be collected, to purchase 1 share in MIS you will need around Rs. 535.
@ShubhS9
Thank you so much Sir. So now from Sept 21 I can buy 50 - 60 % less shares than now. That's sad!
And sir does this 20% is for all Intraday Equity shares or does it changes from share to share. For eg 20% for TCS, 25 % for MRF and can be even 40% for Page India ?
Can vary depending on volatility in the particular scrip but might not vary much for Nifty 50 stocks, so the maximum leverage which can be provided will be 5x.
Wait a sec, wait a sec, wait a sec. Is the Var+Elm going to be 'up to 20%' or a 'flat 20%'. Cause if it's a flat 20% for all stocks, then that makes things easier. You know what you are dealing with. But if it's different for every scrip with 20% being the minimum and upto whatever I don't know, then there's a problem.
Tagging @nithin
Two questions -
This Epi thing is gonna happen right? Cause otherwise a simple act of buying and selling stocks is gonna be cumbersome.

It's not a thing already or what? So like from Dec 1 onwards, you have to wait for funds to settle before being able to take new positions. What a drag would that be.
We like SEBI for its rules to protect small investors. But why SEBI is not bringing down the future lot size[value]. They say derivative is a hedging instrument. but they are not allowing the small retail investor to hedge their holding by keeping the lot size high.
Please correct me if I'm wrong.
Nifty future price is 75 x 12997 = 974775/-.
In order to hedge my holding with nifty future, I need to have a portfolio of 9 to 10lakhs. but every retails investor doesn't have this kind of portfolio.
Similarly in the case of single scrip say for example Reliance.
Reliance future price is 505 x 1951 = 985255/-
All retail investors don't have the capacity to buy 505 shares. suppose an investor who has bought 100 shares over a year is not able to protect his investment via hedging.
Why don't the Brokers ask SEBI to bring down the lot size value to 2 lakhs? That way nifty future will come down to 15-20 shares a lot and reliance will come down to 100 shares a lot [similarly all stock's future lot size will reduce]. This will also reduce the margin requirement. Let the big traders buy multiple lots according to their needs.
SEBI says it wants to protect small investors, why don't they do it by spreading the knowledge about the stock market? SEBI should ask the small investor to read and clear the derivative module in NCFM which the dealers do. Or create a simple course for the small investors on derivatives. after clearing the same retail investor can trade in the derivative segment.
I'm a small-time trader with limited knowledge on the stock market and I'm sorry to say this SEBI is working in the same way as the INDIAN RTO dept. works. In India [for last 10 years] we have very good national and state highways. Anyone using a personal bike or car will agree to this. Indian RTO gives away licences to anyone and everyone who can do an 8 and 0 in their training/testing ground. But 9 out of 10 riders/drivers in INDIA don't have to sense to follow lane or speed limit, neither they know to park a vehicle on road. Any guy irrespective of age can buy any cc/power of bikes/cars. In the end, we Indians still get 1.5 lakh fatalities due to road accidents per year. Instead of RTO making strict testing, they are keeping the speed limit of 6 lanes Nh at 60 kmh !!! to protect riders/drivers.
SEBI is doing the same thing, instead of making it compulsory to learn the working of derivatives [by conducting some sort of test/exam] they are asking for higher-margin in name of protection.