As per SEBI, POA is not mandatory, Why do then POA is needed? @Bhuvan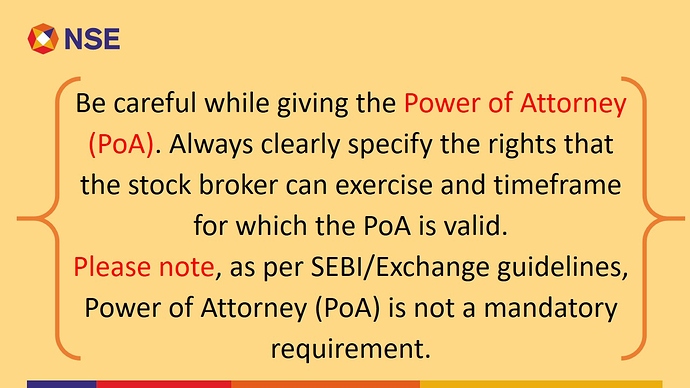 It's not mandatory. But without it will be hard to manage your demat without any hiccups. Everytime you sell something, you will have manually submit a DIS slip. Check out this post for more:
Can't E-dis be used for selling stock through otp facilities.
There a are a lot of issue with e-DIS. Nithin had answered this question a while ago

MUST GO through this VERY IMP.

POA is the only reason why frauds like this are rampant. Is Zerodha saying that legally they can decide not to offer their service because of their internal reasons if a customer inisist on removal of POA ?
I have asked for POA many times and I was told you can choose to sell stocks via Zerodha or get a POA. Cant do both. So basically, if I went for a eDIS they would stop allowing me to sell my stocks via Zerodha. The reason given is we cannot service it. That said, my question is that in light of this letter from NSE, can Zerodha still refuse to allow Easiest acccess (which is free for trusted accounts) to its customers ? @Bhuvan
Is POA required to redeem mutual funds (or anything else in Coin).
We have something running on Beta, which allows clients to sell stocks without a POA. This is through eDIS, where clients consents us to debit the shares when transacting instead of a standing instruction like POA. Btw all new accounts over the last 10 days or so are being opened without POA and if everything goes okay, we will allow clients who don't want to have a standing POA to use this route.
But this is different from Easiest. The issue with Easiest is that, what if you as a client sell shares and don't transfer after sale? The broker can't take such type of credit risk on large number of customers. The other way is to use Easiest and transfer to broker before placing a sell order, but the issue here is that if you transfer and sale order doesn't get executed, what happens to those shares already transferred? It is an operational nightmare.
this is really good news. looking forward to the facility and i'm willing to join the beta program. how do i join the beta program?
I feel the regulator should tweak the rules and the systems to incorporate:
(a) for settlement of market trades, the broker holding PoA should feed the trade no/ exchange order number, and the exchange system matches the PAN of the trader (UCC) with the PAN of the demat account holder and checks the ISIN and number of shares traded ahainst that particular order)Trade number and only the traded ISIN and qty are allowed to be transferred.
(b) for off market transfers some OTP mechanism can be used.
Theae small changes can safeguard boththe broker and the client.
@Nithin: Thanks Nithin. You are at the forefront of and I hope you can offer a solution not just to ZD customers but the industry at large.
How is the consent given in eDIS better than POA ? I mean there is no issue with POA if there is no intent on fraud. The issue as in the case of Karvy is that they abused the POA to move securities for alleged illegitimate reasons. The problem is the free consent and not the legal instrument. Do you agree ? Hence …
My question is still the same: Is it legally possible to insist that customers give consent for auto debit of shares else there is a refusal of service by ZD ? Is that allowed ? Either ways - can you lead the broking industry with your team into a new operating model ?
Check this podcast with Deepak from Capitalmind recently
In today's day and age, the only way to ensure that you are not being scammed financially is by tracking your accounts actively - trading, demat, banks, credit cards, etc.
Also like I have mentioned, all new accounts today is being opened without taking a POA. We will open this up for all our clients soon.
Why Demat depositors are not allowing freeze and unfreeze the accounts. With that investor can freeze the account and be at peace when he want to sell from holding delivery shares he can unfreeze and then give sell in traders platform. If he misses unfreezing before giving sell broker should get notification and can pass it on to the client. This way POA is ok. Is this possible?
Csdl easi says freezing is stopped from 2015. Have to submit some form to broker something. How to activate this facility. .
Allow clients to place online digitally signed requests to freeze unfreeze shares in depository.
unfreezing should be on real time basis instant , so that one can sell
freezing request could take time upon verification
@siva so now OTP instead of POA is in effect?
@nithin said its in beta so now its effective?
so if someone is not comfortable with POA they can use OTP to authenticate transaction?
Do you provide CDSL -easiest facility now or still now? @Bhuvan
Yes, it is. You can revoke your PoA and sell stocks using the 2FA pin. Suggest you hold on for a few days (a week or so), there are some changes in this process, whereby the PIN to be entered while selling stocks will be sent to you by the Depository - CDSL. This process will go live and the details will be shared on the process to switch from PoA to Pin based selling.
If you want to activate easiest, you can. But upon activating easiest easi*est, we will not show you your holdings on the trading platform to sell. This is due to the risk of client being able to sell and transfer stocks at the same time.
1.So you mean we need to use CDSL pin …I thought everytime we try to sell or pledge we have to enter new OTP that is sent to our phone? please correct which one is true?
2.How do I activate easiest …I have easiest account but how can I add zerodha as trusted user?
Ok to clarify you will allow to other cdsl account like other broker or a friend/family member but u will not allow to transfer to zerodha? May I know why?
Also, I heard that from June 1st onwards there willbe some big change from exchange/cdsl that shares will not remain in broker's pool/collateral account …it will remain in client's demat account …can you please clarify on that? @Bhuvan @nithin