I have read thousands of articles about options on internet including zerodha varsity but still,my doubts are not getting cleared.
**1)**Suppose price of Airtel equity is trading at 800 and Call options 900 trading at premium 3RS.
If airtel equity price goes up to 830 then this mean premium of call option 900 will also increase .Right?
---
**2)**Suppose ITC call option 350 is trading at premium 2 RS .I found it bullish and buy 1 lot(1000 quantity) of it. Now total premium is 1000 *2=2000
On the very Next day ,the premium goes up to 3rs… I sold it. here i get loss of 1000 rupees.Right?
calculation is (3-2)*1000 quantity - 2000(total premium on which i buy)= -1000(minus thousand)
---
**3)**I've taken two screenshoots on two different date i.e 3rd july and 5th july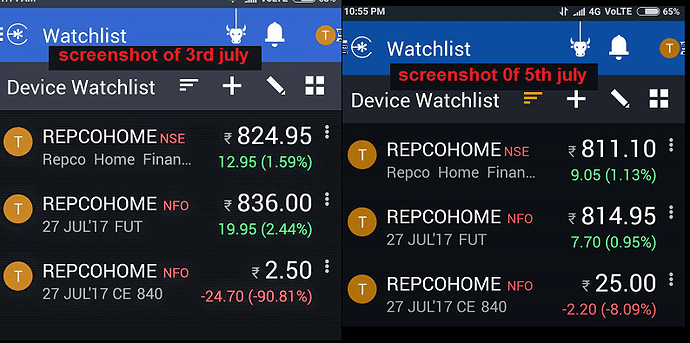 On 3rd july,when Repco home equity is trading at 824.95 then the premium of call option 840 is trading at 2.50
On 5th july,when Repco home equity is trading at less price 811.10 then the premium of call option 840 is increased to Rs 25.Why?
why premium price get increased on 5th july when it is trading at much lesser price(811.10) than earlier(824.95)
---
**4)**When i buy call option on zerodha mobile software then it says the following error like rms blocked…blah blah.Why?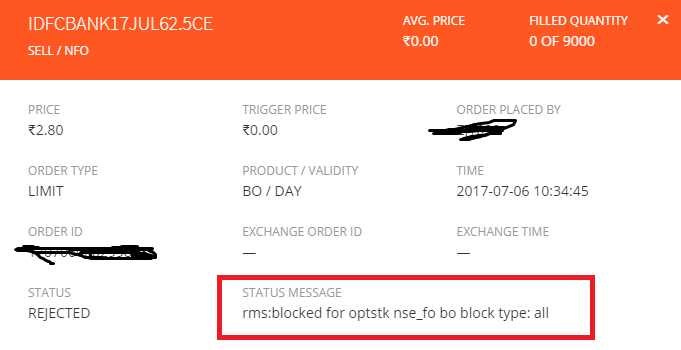 **----------------------------------------------------------------------
5)
**I've seen in youtube videos then most of people prefer pi software for call trading .Is there any difference between trading on call option on mobile kite and pi desktop software.
_------------------------------------------------
6) One of the zerodha moderator on this forum says option is less risky because of limited loss but the irony is that moderator himself does trading in future trading.I've seen his portfolio in one of his youtube video.
If option is less risky then why would anyone does trading in future .