What does giving advice/recommendation basically means
Giving tips or recommendations to buy/sell etc and collecting fees or some monetary thing for offering services.
But if it is incidental to providing education then that's fine right?
Like telling where to put targets and SLs
I am asking all this coz I'm planning to start a YT channel where I will discuss the trades which I'll take
With a disclaimer of course
@siva
As long as you are not asking people to take trades and doing purely as educational it is okay.
Sir so basically sharing what I'm planning to do in stocks =ok
Telling others that they should do it too = not ok
Can a person without SEBI RA/RIA registration charge money for selling Technical Analysis courses and monetize his or her YouTube channel which is for educational purposes?
And are there any trading restrictions on the stocks which are given as an example purely as educational
I believe this should be okay and also disclaimer can be added.
Thank you sir
And I guess then there won't be any trading restrictions too?
Somewhere I read that you can't trade in scrips you discuss publicly for a certain number of days
Nothing as such as I know anyhow you can say these are for educational purpose only while giving examples.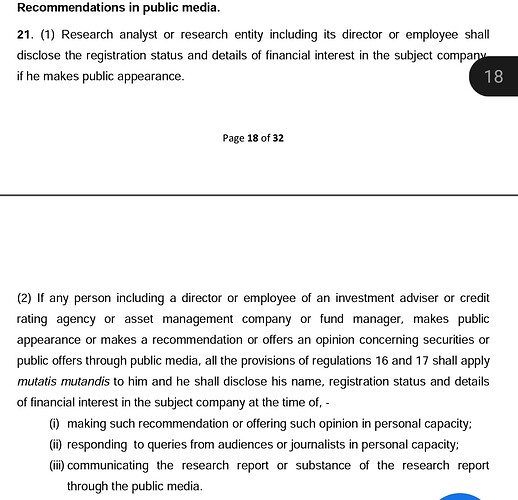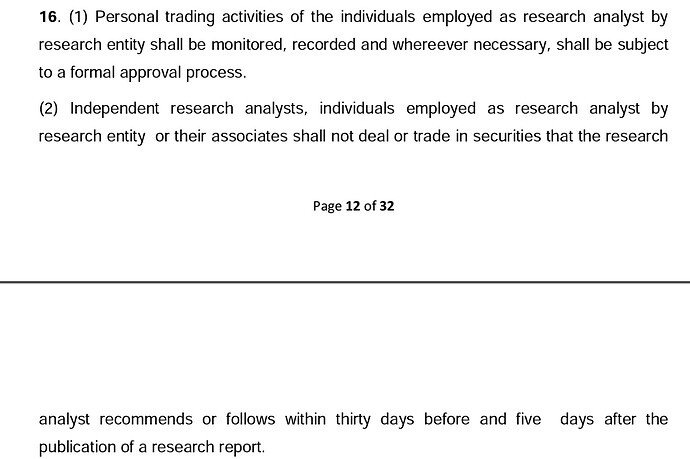 In the first pic it is written of regulation 16 and 17
And on regulation 16 it's written can't trade for 5 and 30 days before
Kindly guide
You are a individual who is not writing any research reports so you can ignore these, also I believe you are over thinking on these, you can run YouTube channel giving disclaimer these are only for educational purpose and not recommended for trading.
Hey @nithin
I came across your post on z connect which stated that giving ideas on twitter is still grey
But many of the people still give ideas on YouTube and twitter
But if they do so with a disclaimer does it become legal then?
Some youtubers are also giving join button on their respective channel which is basically a subscription to exclusive videos marketing them as pro traders, intraday traders etc.
Is this all legal without license from the regulator?
And in this forum only there's a post stating you can't trade 5 days after and 30 days before
But I have come across many people on twitter who share the trades which they have taken as soon as they take the positiona and now I fact sensibull also offers social trading
So what exactly is the legality in this?
If you are collecting a fee in return for advice in any way, then that is not allowed. You need to be an RIA/RA. If you aren't then the regulations don't really stop it today.
Collecting fees via youtube etc is grey. Regulators I don't think had ever had envisaged that stuff like this can happen. I am sure there will be new regulations that will get introduced in the future to stop this from happening.
Not sure if this can be considered as a precedent but in a recent Interim Ex Parte Order (Page 8), the immunity provided by the disclaimers present in the videos was waived off on the grounds that the Youtuber was claiming to be able to give assured returns -
From above, it is observed that the entity has put out some sort of disclaimer on market risk, to consult a professional or make due diligence before making investments. It is observed that such disclosures are shown only for a few milliseconds at the beginning of the video. As the disclaimer is available only for few milliseconds, it is not possible for anybody to read/understand even a sentence of the disclaimer.

Though there is some sought of disclaimer given in the videos, however it is known fact that investments in the securities market are subject to market risk and no guarantee and assurance of any kind is possible. Therefore, by giving these assurances or even so by making such representations in the videos and messages, M/s Profit Guruji has actively concealed the fact of guarantee of any sought of return is not possible in the securities market to lure the gullible public to invest their money.

Since no assurance or guarantee of any sought of return or profit is possible in the securities market, therefore by making such claims and presentations knowing that the same is not true, realistic and correct, is grossly misleading the public.

Further even though the disclaimer is provided, in any event the same cannot be considered as defense where completely contradictory and misleading claim of no loss/assured return/target return in absolute amount, percentage return, daily and monthly return, no loss, only profit, etc. is given in the post and messages, concealing the facts.
There was a thread that discussed about this order.
@Prayag what all can an independent research analyst who does not have a SEBI license do?