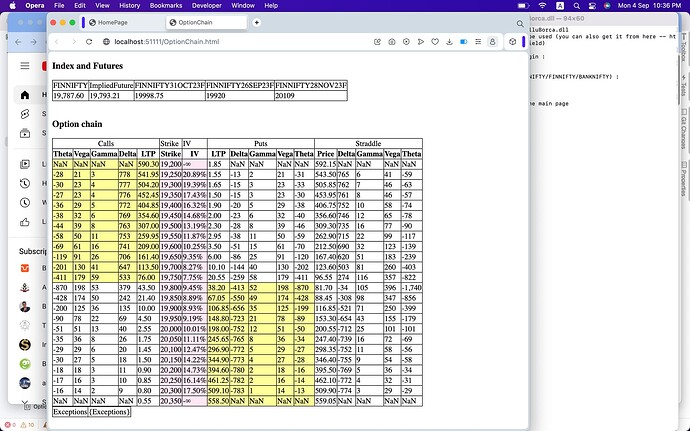 Howdy peeps,
Please have a look – does it seem sensible?
This is Finnifty options (around +/- 3% from spot) taken around 8 pm on 4th Sep. All options here are for 5th Sep expiry.
I am trying to calc the greeks locally using c# and then display as web page. It is subscribed to LTP feed from a broker. This runs as console app running a webserver till user gives the exit command. Webserver simply loads data from a data structure which is being updated via websockets.
RFR is taken from an economics website (I enter it once the app starts). Other inputs are underlying index, expiry date.
Index future is calculated as:
IndexSport * exp [RFR * Time to Expiry]
the future is then used to get the IV. IV for a strike is also calculated for OTM option's IV (as ITM are illiquid and gave horrible IVs in first attempt).
Black model is the used to calculate Delta, Gamma, Vega, theta.
Delta → 0.1% change in underlying. bump and reprice.
Gamma → 0.1% change in underlying. bump and reprice delta.
Vega → 1% change in IV
Theta → nothing changes except time, which goes to the next biz day. then change in NPV is theta.
I found something similar on sensibull, but delta there is for 1 unit change. Ideally, it should be a generic number like 1% change in underlying or something similar. I chose 0.1%. So for FINNIFTY, the delta represents expected change in option value for ~19 points change.