Sadly, We keep hearing about thousands of cases where investors pay huge sums of money to unregistered entities and eventually suffer huge losses because of it.
With an intention to help investors identify, isolate and avoid unregistered entities and motivate them to approach SEBI registered IAs and RAs, SEBI in its latest consultation paper has proposed to create a closed ecosystem for fee collection by SEBI registered Investment Advisers (IAs) and Research Analysts (RAs) from their clients. This ecosystem will help investors ensure that their payments are reaching only registered IAs and RAs.
---
Proposed mechanism for fee collection by registered IAs and RAs:
In order to ensure that IAs and RAs get recognition as registered intermediaries and to differentiate them from unregistered entities, it is proposed to bring in a separate mechanism for fee collection by IAs and RAs.

Payment of fees to IAs and RAs through the proposed mechanism shall also provide clarity to investors regarding the registration status of the entity.

IAs/ RAs shall provide the details of the designated bank account/s in which fees shall be received through the proposed mechanism. These designated bank account/s shall be used solely for collection of fees from investment advisory/research activity.

The details of the mechanism for fee collection shall be disclosed by IAs and RAs to their clients and shall form part of the client agreement, if any.
Following disclosure shall be made by IAs and RAs to their Clients:
"All fee payments made by the client for investment advisory/research services provided by the investment adviser/research analyst shall necessarily be through SEBI specified mechanism for fee collection. Any payment made outside the specified mechanism shall not be considered as payment towards investment advisory/research services under SEBI (Investment Advisers) Regulations, 2013/ SEBI (Research Analysts) Regulations, 2014 and no grievances in this regard shall be entertained by SEBI recognised regulatory body or SEBI."
Process flow chart depicting proposed mechanism for fee collection by SEBI Registered IAs/RAs :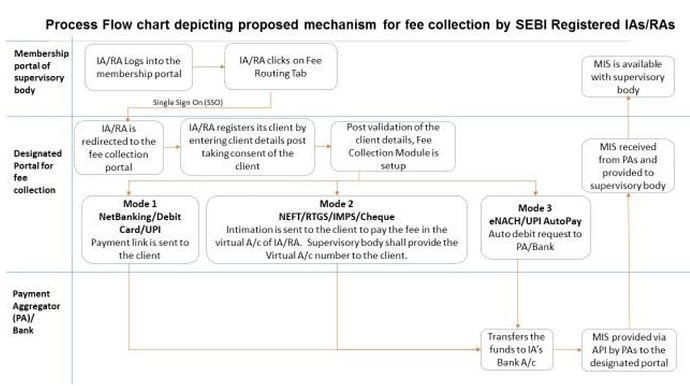 Link to the SEBI's consultation paper: