I wanted to learn more about how price action works sugggest a good course please
Good place to understand price action is to read books first.
If you can sit through with it, you will find tons of free youtube videos by doing research that will validate the ideas you have learned from the book.
Book 1 - https://amzn.to/3AGtjQl ( Trade Like a Stock Market Wizard: How to Achieve Super Performance in Stocks in Any Market)
Book 2 - https://amzn.to/3EVeOdQ ( Stan Weinstein's Secrets For Profiting in Bull and Bear Markets )
A retail trader has no edge in intraday price action, Those claiming to make money make it off selling courses, i strongly belive they don;t work.
That is a very strong statement. There might be at least some on this forum who might disagree.
Agree with jacob, books and blogs ( even podcasts to get initial idea on who to follow) is a good way to begin.
Also, look at these free courses that actually have value instead of so many worthless paid courses designed only as an income source for seller using twitter marketing.
No course will turn you instantly profitable though. You need to learn and then apply to gain skills and then adapt to your market. That takes time - years probably.
I did not take these courses, only scanned them because i had already read his great book and free decade+ long blog. So if the approach looks good to you, then look at those too. Good luck
"MarketlifeTrading"
"MarketlifeTrading"
https://adamhgrimes.com/
Price action works most of the times but you have to follow the rules for EXIT and ENTRY and also RISK MANAGEMENT is the most crucial part. Stop losses can hit but the probability to win is always on the higher side.
Print this chart below and practice them with paper trading for as long as you can until you understand it.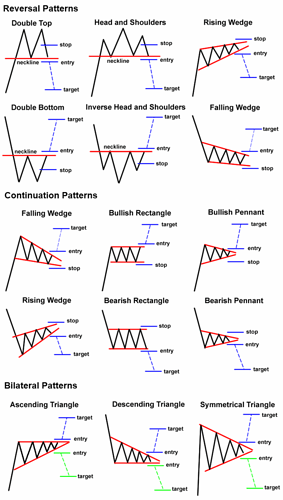 Bro, one advice, no course, no books can help you, especially paid ones, just go to zerodha varsity, study hard and with focus all that it has to offer, then begin studying charts and actual trading with a very very small amount, paper trading will waste time.
Otherwise, feel free to waste time on books and courses and reply me after a year and tell me how much they helped you become a profitable trader.
In addition to this, lemme tell you something.
It's not necessary that you have to use only price action to trade or only price action is profitable.
You have to understand and develop your own system sometimes that only you can understand.
X Person can use "RSI Divergence" to Trade, Y Person can use "Distance from Moving Average" to Trade or Z Person can use "Support/Resistance" to Trade.
Every person understands some setup that can match their behaviour with the markets.
You have to sync the market's behaviour with your behaviour and psychology. To develop this, you will have to sit and study the charts using various strategies for months or years to understand what goes well with your understanding and psychology.
Education is a big business in our country. The probability of a book or course in price action making you a good trader is less than 5% (approx).
There is no dearth of information these days. But too much of it is confusing. You basically need to figure out what works for you in the market from the information around. This will take significant time and even money on your side to do this.
Varsity has been there for many years now. Investopedia was there even prior to that. Still if 1% of active traders make more than FD returns we must acknowledge that tried and tested path of mass failure is better ignored.
I suggest you go systematic. Code, backtest deploy and then persist with patience.If you don't have coding skills you have codeless platforms available now.
Hi,
Just my views on paid course.
I don't know why there is so much negativity around courses, I'm not saying that you should buy any course , just because it looks flashy.
Before buying any course there is some homework needed to be done like:
There are lots of free content and wealth of knowledge on YouTube. Watch it and practice it for around 3-4 months. And then, you should have a clear idea what style you should choose. It can be Intraday or swing.
Then you should select a course. At this point of you should know who to trust, who to not. (You already did your 3-4 month analysis).
Remember few things before buying the course:
You should buy the course as an investment.
You should buy the course to reduce your learning curve.
You must practice, what you learn.
I personally believe that if you want to earn big, then you should be comfortable with some investment on the learning. Keep aside a small portion of you capital for this.
Good Books help you shorten the learning curve.
Zerodha varsity also does the same, helping you shorten the learning curve.
Zerodha varsity is free of cost and most notable trading books are above 3000Rs so it's a bit costly for average investor.