The NFO of Bharat Bond ETF & Fund Of Fund (FOF) 2032 maturity opens tomorrow. Bharat Bond is a debt ETF that will only hold bonds issued by public sector undertaking (PSUs). Unlike traditional ETFs which don't have an expiry, Bharat Bond is a target maturity ETF that will expire. In this case, in 2032.
If you are new to all this and have no clue about ETFs, check out this Varsity chapter👇
What do you mean by a defined maturity ETF?
A normal open-ended ETF doesn't have a maturity date. It will trade for as long as the ETF is listed. But the Bharat Bond ETF will have maturity dates. To start with, Edelweiss is launching 2 series of ETFs. 2023 ETF and 2030 ETF which will expire in those respective years and the AMC will keep launching new series. Each series will have an index and the ETF will just track that index.
What is the Bharat Bond ETF?
Bharat bond ETF is a debt exchange-traded fund (ETF) that will only invest in AAA bonds issued by PSU companies owned by the Government Of India.
What will the ETF hold?
The ETF will only hold bonds with AAA credit ratings issued by the Government of India owned companies such as REC, PFC, NHAI, etc.
What do you mean by target maturity?
When you buy a traditional ETF like a Nifty ETF, it doesn't have a maturity date, you can hold it for as long as you want. But the Bharat Bond ETFs use a target maturity structure, meaning they have a fixed maturity date, just like a normal bond. So in this case, the ETF will mature in 2032, and you'll get the maturity amount in your bank account. This structure is called as target maturity.
How safe is the ETF?
Two of the biggest risks in bonds are default risk and interest rate risk.
Default risk: It's the risk of a company not paying back its debt. Since the ETF will only hold bonds issued by PSUs, there is very minimal default risk. PSU bonds carry an "implicit sovereign guarantee." Meaning, the Govt doesn't explicitly say that it guarantees the debt, but it is understood that if something goes wrong the Govt will step in.
Interest risk: Bond price and interest rates have an inverse relationship. Interest rate risk is the market risk you have to bear due to interest rate changes. As interest rates rise and fall, the yields of the underlying bonds will rise and fall and by extension the price of the ETF. However, if you are holding the ETF until maturity, interest rate risk won't matter to you.



Pimco
Check out the chapter on debt funds to understand more
How will the interest payments be paid?
The coupons in the ETF will be reinvested. And once the ETF matures, the entire proceeds will be paid out to you.
What will be the expense ratio of the ETF?
0.0005%
Can I sell the ETF before maturity?
Yes, you can, just like any other ETF. But a general word of caution, there might be some liquidity risk in ETFs given that ETFs aren't really all that popular in India. By liquidity risk I mean, the difference between bids and offers. You can avoid this by placing limit orders.
What returns can I expect?
The yield of the 2032 ETF is 6.87% if held to maturity.
What will be the taxation on this ETF?
If sold within 3 years, it will be considered as short-term and STCG as per your income slab will be applicable. If sold after 3 years it will be considered as long term and LTCG of 20% with indexation is applicable.
When is the issue opening and how can I buy Bharat Bond ETF?
The NFO opens on December 3rd and closes on December 9tth.
You can invest in Bharat Bond ETF here .
You can invest in Bharat Bond FOF here .
Constituents of the ETF.
The ETF/FOF will track the Nifty Bharat Bond 2032 index
| Index Name | Yield | Residual Maturity | Macaulay's Duration |
| --- | --- | --- | --- |
| Nifty BHARAT Bond Index – April 2032 | 6.81% | 9.83 | 7.14 |
ETF/FOF yield: 6.87% if held to maturity.
Modified duration: 6.84 years
Maturity: 15th April 2032
ETF/FOF holdings
| Issuer | Rating | Weight % |
| --- | --- | --- |
| INDIAN RAILWAY FINANCE CORPORATION LIMITED AAA | AAA | 15.00% |
| POWER FINANCE CORPORATION LIMITED AAA | AAA | 15.00% |
| POWER GRID CORPORATION OF INDIA LIMITED AAA | AAA | 15.00% |
| NTPC LIMITED AAA | AAA | 15.00% |
| NATIONAL BANK FOR AGRICULTURE AND RURAL DEVELOPMENT AAA | AAA | 14.98% |
| EXPORT-IMPORT BANK OF INDIA AAA | AAA | 12.15% |
| NHPC LIMITED AAA | AAA | 8.72% |
| NUCLEAR POWER CORPORATION OF INDIA LIMITED | AAA | 4.15% |
Advantage of Bharat Bond ETFs
One of the popular bond investing strategies is called laddering. You invest in multiple bonds of various maturities. For example: 2, 4, 6, 8, and 10 years. It's a really simple strategy to plan your cashflow needs and also to manage the interest rate risk. If rates rise, the maturities from shorter maturities can be reinvested at higher rates. Similarly, if rates fall, you'll have gains on the longer maturities.
In case you weren't aware, Edelweiss now has Bharat Bond ETFs of various maturities, using which you can essentially build a bond ladder: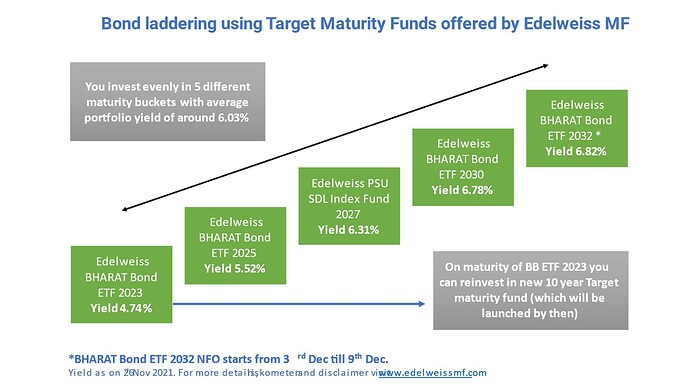 Index only portfolio
The other advantage is for index fund investors. With Bharat bond ETFs, you can now build a pure index only portfolio.
Let me know if you guys have any questions.