About the fund
NIFTY Smallcap 250 represents the balance 250 companies (companies ranked 251- 500) from NIFTY 500. This index intends to measure the performance of small market capitalisation companies.
Index Methodology
To be included in the index, company must become a part NIFTY 500. It is based on free float market capitalisation. Index is re-balanced semi-annually, i.e. in March & September.
Small Cap Universe: Full of potential
GROWTH PROSPECTS : Small Cap companies tend to have higher growth prospects owing to their smaller size.
DIVERSIFICATION: Higher weightage to sectors under-represented in Large & Mid Cap segments.
FUTURE LEADERS: Many specialized businesses, expected to grow to be the leaders of their sector are part of the index.
ACCESS TO NEW IPOS : Capture newly listed companies and that can be a gate way to access
new opportunities.
Portfolio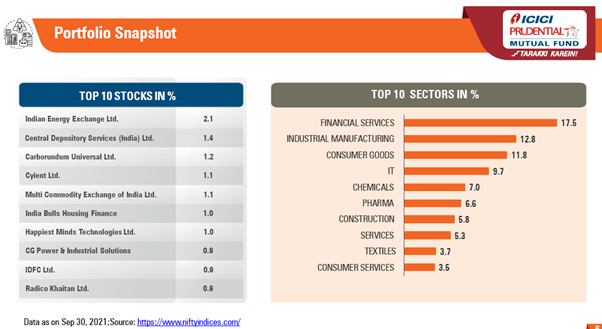 Portfolio consist of diverse stocks, covering all major sectors
Year on Year performance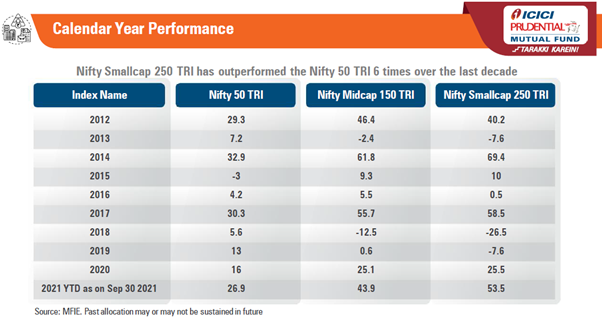 Outperformance to Nifty 50 TRI 6 times over the last decade
ICICI Prudential Nifty Smallcap 250 index captures all the 250 stocks in the smallcap index space. It provides opportunity to invest in companies tend to have higher growth rates, which might come at the cost of higher volatility, with a minimum investment amount of INR 100.
You can invest in the NFO here