We are all well aware how innovative and successful ISRO has been throughout the years launching and constantly working on so many groundbreaking missions and making rapid strides in the space industry.
I was recently talking to a friend who works in this industry and was intrigued by the developments happening on that front. Here are some of the basic yet very interesting data points and information that I compiled :
The Global Space Sector is worth 440 Billion Dollars and you would be kind of negatively surprised to know that India has only 2% share in this

The Sector employees 45000 people.

India's total investment in the start-up ecosystem in the space sector is about $22 million, which is less than 0.5 per cent of global investment.

Antrix Corporation expects the industry to grow up to $50 billion by 2024 if provided with appropriate policy support.
What has Changed in the last 18 Months?
Recognising the opportunity and potential that Indian space industry has, The Government, in 2020, has announced The Draft National Space Transportation Policy-2020 which allows private players to participate in the journey of India's growth in the global space industry.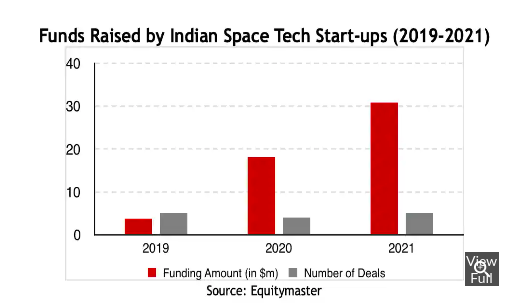 The Industy is at a nascent stage and the potential to grow is incredible. Let us use this thread to track and keep an eye on all the interesting updates and companies working in this sector.