Streak Algos & Backtest Results Sharing, Discussion
This is the Algo I created… Kinda weird… But the best result I got so far… I haven't explored streak fully yet…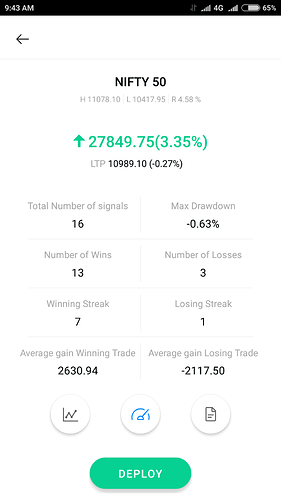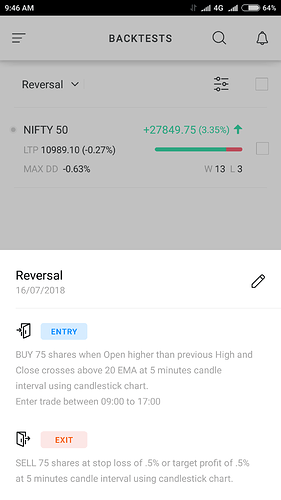 can you check the same for niftybees etf
Did you correlate 1-2 trades taken by streak with the actual values being shown in the chart after applying the indicators? Does that tally up?
Mediumwire,
I correlated all of them.
It enters at the open of next candle once both criteria are met. Most of the time, it's the 9.15am open.
Taget Price Achieved in 6 trades
Stopped out @3.15pm = 9 trades
Stop Loss hit in 1 trade
Total 16 trades.
But it's just 3 months. I would be more confident if the backtest period was atleast one year.
Ok. But practically, you will not be able to enter at 9.15 open price. How do the results change if you make it 9.16 am as start time.
@mediumwire
I really can't say anything about that…
Cause there are equal chances of loosing/gaining few points owing to the volatility…
Also you must sit prepared @9.15am if price closes Below 20EMA the day before and there are other reversal signs(Divergences/Climactic move etc.)…
Does Streak have algos for Futures also?
Yes, but because of the liquidity issue, unexpected results may occur. Which may distort your view on the credibility of your good Algo also. I do my backtests on Nifty 50 Index & Stocks only, not on the futures.
If you are interested in Cash Future Arbitrage, Sentinel is the option.
Hi Amit,
We currently supports equity, equity futures and currency futures.
Does anybody know how Opening Range works in Streak… I have an Algo on Opening Range High breakout by close on 5 min candle… But I don't get it on charts… It enters even when price/close is WITHIN first 1 or 2 candles…
How many 5 min candles does it consider as Opening Range…???
Has anyone tried any algorithm with SuperTrend ? I have been working on this for a while now with default setting it does give good result but due to some whipsaw in the trend it tries to give some false result. Can this be corrected in conjunction with other chart types? Please help.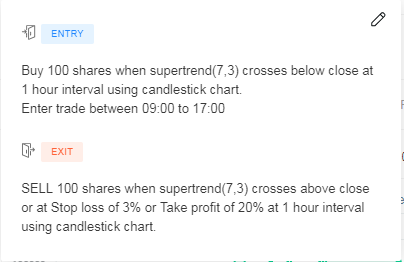 @SagarG
For opening range you can choose the range , like 5min, 15 min etc in the options popup.
Candle interval on top helps you choose what time frame candles close you want to keep checking for the breakout.
Hope this clarifies.
@vinayak_mohan
Supertrend works best in trending markets, if you are using it for sideways scrips or in that backtest time range, then you should try to adapt it with other indicators to identify the exsitance of a trend.
To read more on how Supertrend works you can refer this.
Is there any support number for streak.
I have to subscribe but I m confused in some point given below
what is the best algorithm strategy to set for making profit.
if the algorithm strategy is met 6 times in a day then we have to enter 6 trades in a day?.
for starters who are not having details information on streak working can be supported on phone??
Hello Rajiv1,
Thank you for writing to us.
We only have email support as of now. I would request you to list down all your questions and send it to support[@]streak.tech we will be happy to answer them.
Streak give you the opportunity test most of your strategies with technical indicators on historical data. You will have to keep adjusting to the market trends because some algos work best in trending markets, some don't. As per company policy, we do not recommend strategies or neither give tips.

Yes, you will have to click on the order to take position.

We have 3 different Plans Basic, Premium and Ultimate. If you are looking for assistance then Ultimate Plan is what i would recommend which is priced at Rs 1400+ GST. You will have to maintain Rs 1800 in your Kite account.
The ultimate plan gives you the opportunity to speak to the Streak Platform expert to get all the
answered about the platform and how to use it with the help of a team viewer.
The expert will help you understand how to use various chart types and technical indicators, and how to use these indicators on Streak platform. It is a one time call for 30 mins.
Thanks
Streak