Scan for Opening Range(Close,3min) higher than 60 and Opening Range(Close,3min) lower than 1900 and Opening Range(Close,3min) higher than Opening Range(Open,3min) and Opening Range(Low,3min)
equal to Opening Range(Open,3min) on 3 Minute candles using candlestick chart
Hi, I am creating a code in Scanner using 3min candlesticks which shows stocks among Nifty 50 which fulfill following conditions -
a) Price of 1 share should be between 50rs and 1900 rs
b) Opening candle (3 min) Close should be greater than High
c) Opening candle (3 min) Close should be equal to Opening candle (3 min) Low
You can find code for same above.
However after i run the scanner, i am getting false results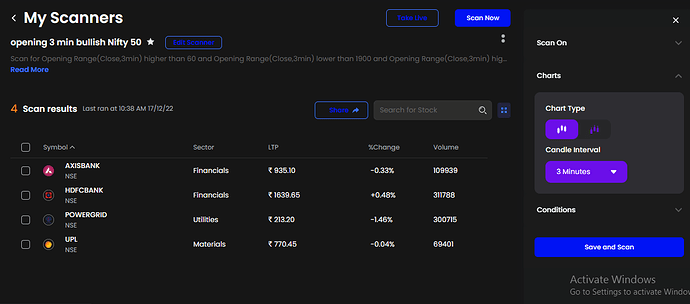 As you can see from above image, 4 stocks are fulfilling criteria for that price action on 16th dec 2022, Friday
But if you look at actual price action available from Tradingview , you will find that Scanner is showing false results for Axis bank and Hdfc bank stocks. What do you people think is going on ?
Is my code wrong or is it an error in Streak or some other issue ?
Any constructive reply will be very appreciated.