I Just want a Rollie, Rollie, Rollie
Prices of Rolex watches on the secondary market skyrocketed during the first several months of 2022, before dipping a bit as the year ended. Rolex's value as an investment has outperformed other assets like gold and the stock market for the past decade.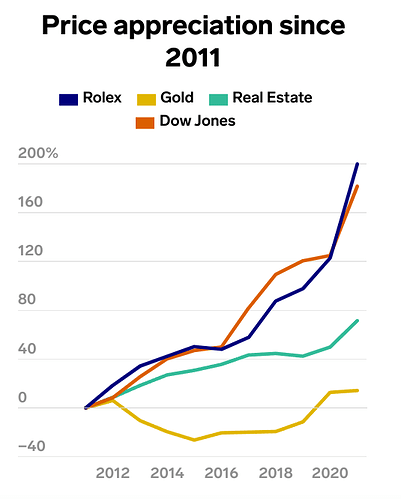 One of the reasons for Rolex's swift rise in prices amidst recent years comes down to supply. Rolex reportedly makes about 800,000 watches each year, but the popularity of the brand means demand vastly exceeds the supply of new timepieces, leading to a robust secondary market for pre-owned watches.
---
State of the Indian Economy
While the economy may be slowing, it is growing above consensus estimates. The consensus among economists (and the RBI) currently is that growth will be below pre-pandemic levels, with output drifting away from the pre-pandemic path.
While consensus may be expecting growth to slow from 7 to 5.5 per cent, it is likely that growth may be slowing from well above 8 per cent to around 7 per cent in the next fiscal year.
---
Once upon a time in Hollywood
Hollywood's China reckoning has come. But unlike the NBA's recent China debacle, this time it's not the United States but China's nearest neighbors who've had enough.
Vietnam, the Philippines, and Malaysia have all expressed outrage at a map of China that flickers across the screen in a new film released in late September. The animated film, Abominable, is a joint production of DreamWorks and Pearl Studios, which is based in Shanghai. The map includes China's infamous "nine-dash line"—the vague, ambiguously marked demarcation line for its territorial claim over most of the South China Sea.
The dispute points to a new problem for Hollywood as studios move closer to Beijing's positions. Silence on China is nothing new—but positively pushing the Chinese government's view of the world is.
Hollywood's traditional self-censorship on China has market roots. China's burgeoning market of movie-goers is expected to soon surpass the United States as the largest in the world.
China's censors have wielded this power adroitly, mandating that production companies abide by the party's bottom lines in order to earn one of the 34 coveted spots allotted to foreign films for distribution in China each year.
---
Worst Hacks of the Year
Conversations on cyber and digital security have picked up pace as the global cybersecurity market grows 16% to reach $17.8 billion in Q3 lets take a look at some of the worst hacks we saw last year.
---
Bill Gates on our future
Bill Gates plans to stick to his plan of more than two decades ago, which is to give the vast majority of his resources back to society. As he gets ready to become a grandfather he pens down some of his thoughts on reducing infant mortality, preparing for the next pandemic, AI, a cure for AIDS, climate change and much more.
---
Power of small habits
We believe in small things leading to big changes. We are trying out best in this section on TQ&A to start you towards a positive habit of reading something new everyday.
Habits are the compound interest of self-improvement. The same way that money multiplies through compound interest, the effects of your habits multiply as you repeat them. They seem to make little difference on any given day and yet the impact they deliver over the months and years can be enormous. It is only when looking back two, five, or perhaps ten years later that the value of good habits and the cost of bad ones becomes strikingly apparent.
---