Throwback to 2023 – Factors that led to the Remarkable Gold Rally
As one looks back on an eventful year, it is evident that investors who had gold in their investment portfolio were rewarded. Gold Prices have risen to over Rs.63,000 for 10 g of Gold of highest purity and this represents a y-oy gain of about 20% as of October 2023. Let's understand the factors that led to the Gold rally.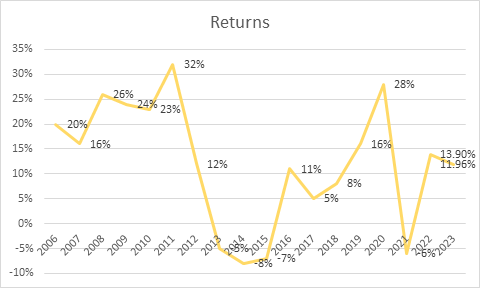 MCX Gold Commodity Index for the period between CY 2006 to Oct 2023. Past performance may or may not be sustained in the future.
Regional Banking Crisis – In March 2023, a regional banking crisis in the US led to a significant price surge in gold, as risk assets faced a downturn. The driving factors were risk aversion and the anticipation of the Federal Reserve cutting rates in response to the crisis. Fortunately, the crisis remained contained within the regional banking sector, and gold's fervor gradually subsided in the ensuing months.
Geopolitical crisis - Ongoing geopolitical conflicts and recent Middle East hostilities have rekindled global tensions. This heightened risk environment prompted cautious investors to seek refuge in gold, resulting in price increases. Remarkably, these price surges occurred despite a robust US dollar and elevated US interest rates, which typically raise the opportunity cost of holding gold.
Less Hawkish stance of the US Federal Reserve: The US Federal Reserve's relatively dovish stance also played a role in shaping the gold market. Following the Fed's decision to keep interest rates unchanged during its November 1st meeting, the US dollar and yields experienced some weakening. This development has created more favorable conditions for gold. The US central bank faces the challenge of curbing persistent inflation without over-tightening.
Therefore, given the numerous geopolitical and economic risks on the horizon, an allocation to the yellow metal, can help smoothen out an investors journey. We suggest an allocation of between 10-15% of one's portfolio using financial avenues like Gold ETFs and Gold Mutual Funds.
Gold ETFs are one of the leading digital gold avenues in the country. It saw inflows of Rs, 1069.51crores as of October 2023. Gold ETFs invest in physical gold of the highest purity and aim to track the domestic gold price. One can start their gold investments through Gold ETFs for denominations as low as 0.01 grams. Mutual fund investors who prefer to do regular investments in gold can choose to invest in Gold Fund of Funds which in turn invest in Gold ETFs.
As the festive season is upon us, take the opportunity to use any price corrections to add more gold to your portfolio.
Disclaimer: The views expressed here in this Article / Video are for general information and reading purpose only and do not constitute any guidelines and recommendations on any course of action to be followed by the reader. Quantum AMC / Quantum Mutual Fund is not guaranteeing / offering / communicating any indicative yield on investments made in the scheme(s). The views are not meant to serve as a professional guide / investment advice / intended to be an offer or solicitation for the purchase or sale of any financial product or instrument or mutual fund units for the reader. The Article / Video has been prepared on the basis of publicly available information, internally developed data and other sources believed to be reliable. Whilst no action has been solicited based upon the information provided herein, due care has been taken to ensure that the facts are accurate and views given are fair and reasonable as on date. Readers of the Article / Video should rely on information/data arising out of their own investigations and advised to seek independent professional advice and arrive at an informed decision before making any investments. None of the Quantum Advisors, Quantum AMC, Quantum Trustee or Quantum Mutual Fund, their Affiliates or Representative shall be liable for any direct, indirect, special, incidental, consequential, punitive or exemplary losses or damages including lost profits arising in any way on account of any action taken basis the data / information / views provided in the Article / video.
Mutual Fund investments are subject to market risks, read all scheme related documents carefully.