Who makes more money traders or investors?
Cannot predict ,ethics followed properly will successfully make more money. But coming to investors they make more sure shot money in taking long position for more than 5 to 10 years
Is anyone become billionaire like Warren Buffett by trading but not investing ? If nobody then investing only wins
Undoubtedly investors. All big bulls are long term investors. Countless examples from india like jhunjhunwala, mr biyani, mr damani, porrinju etc etc.
Countless global investors & unbeatable warren buffet. He earns per hour millions of dollars through dividends!
Hardly any successful traders you see. They are all investors.
Its like a race between a rabbit & a tortoise. Rabbit maybe compared as a trader & slow moving tortoise is like investor.
Tortoise wins the race in the end.
90% investors make money & 90% traders lose money.
If u will go deep acquiring knowledge about investing for long term with benefits like tax free income & regular dividends (taxable), doing fundamental analysis, studying companies, etc etc. You will forget or quit day trading or may trade very less times.
P.S. , Traders work for money by doing hardwork. But investors do smart work & money works for them!
Lets Not talk about the Big Investors.
It's Not 1995 or 2000.
It's 2017 and Even a very small news about any stock effect very much on the value as well as price of the Stock.
Now, The market is not fair like it used to be earlier and you will Invest some amount and get return like MRF.
There are competitors in the market, Brand value is everything Nowadays. Profits Margins have decrease in market due to competitors.
Now, People have more options.
Example:-
JIO in Telecommunications.
Patanjali in FMCG.
I still remembered When I knew only 1 Tyre Brand That is MRF now, I have Option of CEAT, Apollo and more…
Market is all about what we are surrounded by and the things which effects our day to day lifestyle.
In Today's World you can't get sure shot return from your Stock (You will get dividend for sure)
Because The meaning of long term have changed.
If A person is a Investor as well as He knows Trading. He will get best out of the market in Today's World.
Investor + Trader = Best Result.
Many stocks gave upto 11000% returns since 2014. Many have given 500 - 1000 % even since 2015 & lately. Many have given 100% returns in couple of Months starting year 2017, Examples are JBM Auto,indiabulls ventures & more.
We are not discussing 1980's 1990's where countless stocks have given 10,000% returns till date & even more. If we had invested that time, we would be making crores of rupees monthly by dividends alone!! And would be sitting on wealth of some hundreds of crores worth shares!!
Here are some stocks which gave upto 1000% returns since 2014.
Orient Beverage produces bisleri brand mineral water which own 36% mineral water market of the country. In January 2014 the stock was trading at levels of 20 Rs in December 2014 it touched the high of 220 Rs giving return of 1000%
Gati 870% return
Gati Limited is a logistics company that deals in distribution and supply chain solutions, cold chain transportation solutions, warehousing, international freight forwarding, custom clearance, e-commerce and coast-to-coast services to customers across diverse industry verticals. In January 2014 its stock was trading at 35 Rs and on 12th November stock touched the high of 340 giving return of 870%
Avanti Feeds 813% return
Avanti Feeds is engaged in manufacturing of shrimp and fish feed, processing and export of shrimp. The Company's business is organized into three main segments: Shrimp Feed, Shrimp Exports and Wind Mills. In January the stock was trading at levels of 230 in November 2014 it touched the high of 2100 giving the return of 813 %
Mold tek packaging 640% return
Mold tek packaging is engaged in manufacturing of plastic packaging products. The Company's products include lubricant containers for grease and oil, paint containers for distemper and emulsion, food containers and bulk containers. In January the stock was trading at levels of 35 in December 2014 it touched the high of 260 giving return of 640%
Adifine Chemicals 620% returns
ADI Finechem Ltd. is a specialty oleochemical manufacturing company. It's the only producer of Tocopherol Concentrate, and Linoleic Acid and Dimer Acid in the country. In January 2014 the stock was trading at levels on 50 in September 2017 it touched the high of 360 giving a return of 620 %
MM Forgings 555% return
MM Forgings Limited is engaged in the manufacture of Steel Forgings. The Company manufactures steel forgings in raw, semi-machined and fully machined stages in various grades of Carbon, Alloy, Micro-Alloy and Stainless Steels In January 2014 the stock was trading at levels of 90 and in December 2014 it touched the high of 590 giving return of 555%
Kesar Terminal and Infrastructure
Kesar Terminals & Infrastructure Limited is engaged in the storage business. The Company operates Bulk Liquid Chemical Terminals. In January 2014 the stock was trading at levels of 70 and in December 2014 it touched the high of 470 giving return of 570%
Ahmed Nagar Forgings 430 % return
The stock is in the same forging business. In January 2014 the stock was trading at levels of 100 and in November 2014 it touched the high of 530 giving return of 430%
Symphony Limited 437% return
Symphony Limited is an India-based company engaged providing air cooling solutions for domestic and industrial customers in 60 countries across the globe. The Company operates in two segments: home appliances and corporate funds. In Januray 2014 the stock was trading at levels of 400 and in November 2014 it touched the high of 2150 giving return of 437%
RS Software 420% return
R.S. Software is engaged in the business of development and maintenance of computer software, and other related services. In January 2014 the stock was trading at levels of 160, in September 2014 it touched the high of 833 Rs, that is return of 420 %
Some more are attached in pic with returns in last few years,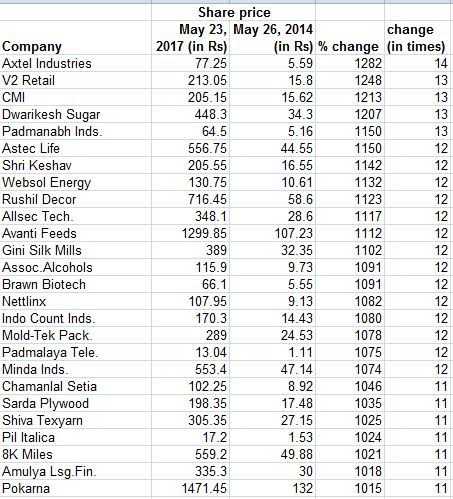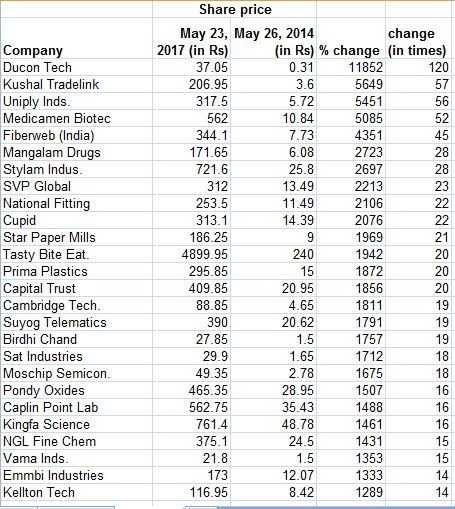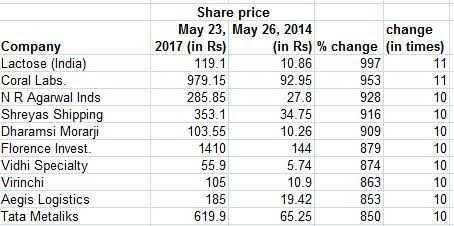 What is your advice to 9-5 job going people on trading?
It's Very difficult to trade while someone is doing Job.
But, If You have love for something you make time for it but this doesn't apply for Intraday Traders. Atleast you Need Minimum 1 hour For Intraday.
Many Times I have booked Profit In Just Opening Of Market from 9:15 to 10:00 AM and I don't take any trade after that.
Many Times without covering the market from Opening I have taken Trades Directly at 2:45 PM to 3:15 PM and Have Booked good profit.
If You have Love for something as well as knowledge you can make money anytime in market.
All you need is skills.
One more thing If anyone will do Intraday 5 days a week He will lose some part of Profit maybe possible Loss all the Profits.
I Don't trade Everyday.
( I am a student and 10:00 AM to 5:00 PM my college Timings )
If a stock's previous close was 500 and the close today is 500 as well, then the investor does not make any money. But a trader can make money by speculating catching the intraday movement. If the stock opens gap up tomorrow, then the investor makes money but the intraday equity trader does not get to catch this upmove unless he holds a long future carry position.
So the ideal answer to your question is the person who makes more money in this market is the one who is a trader + investor.