So I received some mutual funds in DEMAT form when my close relative died. I know it's not taxable, but in my AIS, it shows up as:
Information Code: SFT-18(Pur)
Information Category: Purchase of securities and units of mutual funds
Information Description: Purchase of mutual funds (SFT - 018)
Information Source: COMPUTER AGE MANAGEMENT SERVICES LIMITED - DSP ASSET MANAGERS PRIVATE LIMITED(D) (AAACC3035G.AZ670)
Here's a sample screenshot of it:

I feel this is incorrect information from CAMS and can be interpreted by the Income Tax department wrongly.
–
Whereas the mutual funds which were in SOA (statement of accounts) form, are properly marked as received from transmission by KFintech: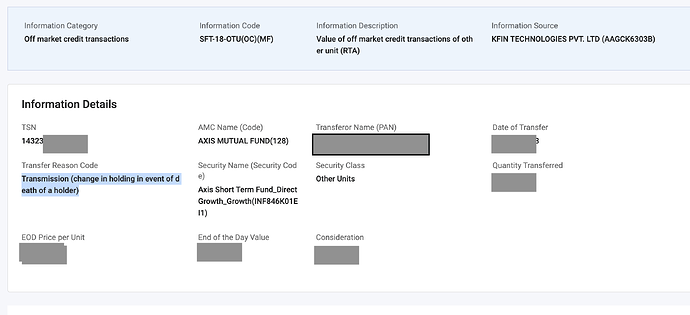 ---
What should I do about this? Should I give feedback on the AIS and deny the information in AIS or select this option and enter the PAN of the deceased person?

Thanks in advance for your time!