A thread for discussing your trades, strategies, ideas, news, stories, etc.
---
---
Here's how the markets fared in the week gone by:

After falling for two straight weeks, markets ended the week ended 9th September on a positive note, with Sensex and Nifty both managing to raise as much as 1.7% for the week.
And this momentum was seen across sectors as well. Apart from the Nifty Auto index, all major sectoral indices closed the week in green.
---
---
A look at how the major global indices performed in the week ended 9th September: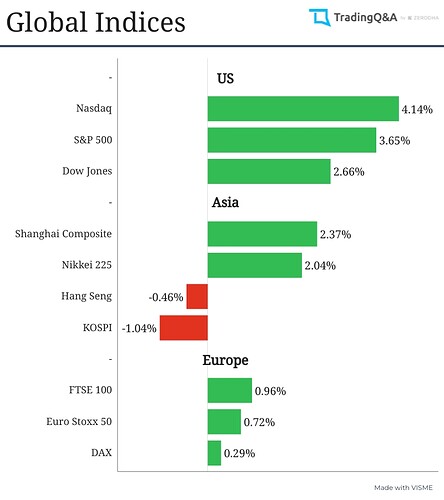 ---
---
Things to watch out for in the coming week;
Key macroeconomic events to watch for;
On the macroeconomic front, all eyes will be on the latest inflation numbers as India, the US, Japan, UK and Eurozone will be releasing the inflation numbers for the month of August. The inflation in the month of July had eased to 6.7% from 7% in India in July and to 8.5% from 9.1% in the US. But had soared to 10.1% in the UK and 9.% in the Eurozone, as the European continent battles soaring energy prices.
| | 12th September | | 13th September | | 14th September | | 15th September | | 16th September |
| --- | --- | --- | --- | --- | --- | --- | --- | --- | --- |
| India | CPI Inflation (AUG) | US | CPI Inflation (AUG) | India | WPI Inflation (JUL) | US | Retail Sales (AUG) | China | Industrial Production (JUL) |
| | Industrial Output (JUL) | | | Japan | CPI Inflation (AUG) | | Jobless Claims | UK | Retail Sales (AUG) |
| | Manufacturing Output (JUL) | | | | Industrial Production (JUL) | | Industrial Production (JUL) | Eurozone | CPI Inflation (AUG) |
| UK | GDP Growth | | | UK | CPI Inflation (AUG) | | | | |
| | Industrial Production (JUL) | | | Eurozone | Industrial Production (JUL) | | | | |
| | | | | US | PPI (AUG) | | | | |
| | | | | | Crude Oil Inventories | | | | |
What are you looking forward to in the week? Share below and join the discussion