A thread for discussing all your trades, strategies, ideas, news, stories, etc.
---
A recap of market performance in the week ended March 11;

Indian equity benchmarks made a spectacular recovery from weekly low, rising by over 6%, snapping a four week losing streak. Driven by positive sentiment across all sectors, Nifty ended the week up by over 2.4%. While Sensex, 2.2%.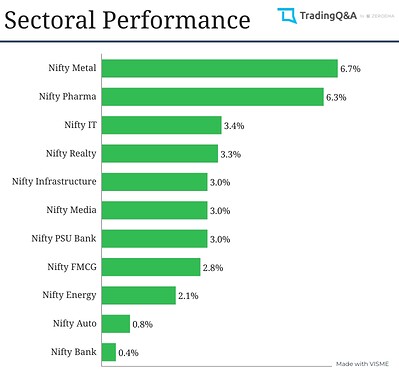 ---
Globally though the markets were in mixed mood. Equity markets in Europe saw a rebound while Asian and US markets ended another week in losses.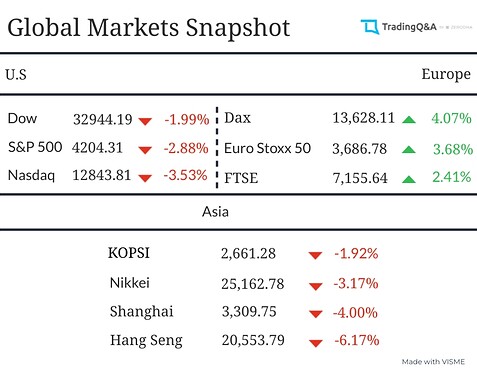 ---
Here's what the institution's were up to: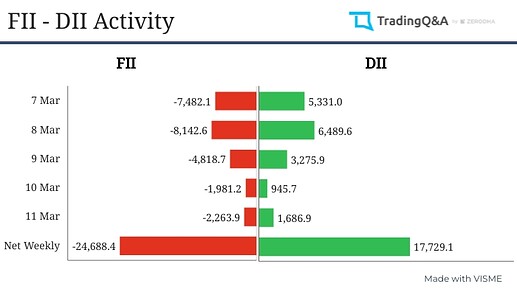 ---
Key economic events to watch out for in the week;
| | 14 Mar | | | 15 Mar | | | 16 Mar | | | 17 Mar | | | 18 Mar | |
| --- | --- | --- | --- | --- | --- | --- | --- | --- | --- | --- | --- | --- | --- | --- |
| India | WPI Inflation (FEB) | | China | Industrial Production (FEB) | | Japan | Industrial Production (JAN) | | Eurozone | CPI Inflation (FEB) | | Japan | BoJ Interest Rate Decision | |
| | CPI Inflation (FEB) | | Eurozone | Industrial Production (FEB) | | US | Feb Interest Rate Decision | | UK | BoE Interest Rate Decision | | | CPI Inflation (FEB) | |
| | | | US | PPI (FEB) | | | Retail Sales (FEB) | | US | Jobless Claims | | US | Home Sales (FEB) | |
| | | | | | | | | | | Building Permits (FEB) | | | | |
| | | | | | | | | | | Industrial Production (FEB) | | | | |
| | | | | | | | | | | | | | | |
---
What are you looking forward to in the coming week? Share below