A thread for discussing your trades, strategies, ideas, news, stories, etc.
---
---
Here's what the markets were up to in the week gone by;

Easing inflation numbers and positive global cues saw Indian markets carry forward their positive momentum for the fourth week running. Nifty ended the week up by around 1.7%, while Sensex surged around 1.85%. Both indices are now less than 4% off the all-time highs made in October 2021.
On the sectoral front, Metal, Bank and Energy were the top performing sectors, inching up between 2.8% to 4.6%. While the Media (-2.1%) and FMCG (-1.1%) were the top draggers.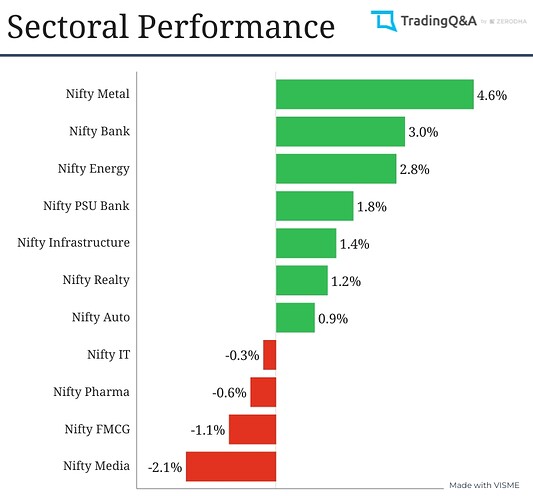 ---
---
A look at the performance of major global indices in the week ended 12th August;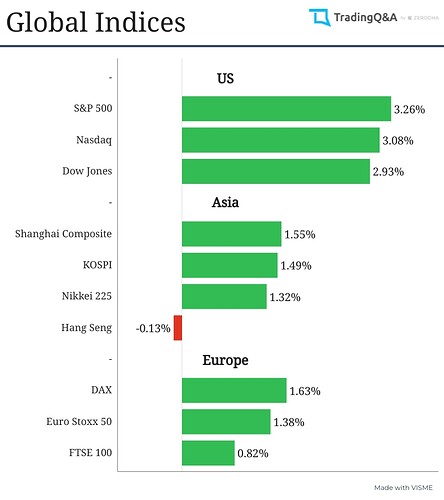 ---
---
Things to watch out for in the coming week;
Key macroeconomic events to watch for;
| | 15th August | | 16th August | | 17th August | | 18th August | | 19th August |
| --- | --- | --- | --- | --- | --- | --- | --- | --- | --- |
| Japan | GDP (Q2) | India | WPI Inflation (JUL) | Eurozone | GDP (Q2) | Eurozone | CPI Inflation (JUL) | Japan | CPI Inflation (JUL) |
| | Industrial Production (JUL) | US | Industrial Production (JUL) | UK | CPI Inflation (JUL) | US | Jobless Claims | | |
| China | Industrial Production (JUL) | | Building Permits (JUL) | US | FOMC Meeting Minutes | | Home Sales (JUL) | | |
| | | | | | Retail Sales (JUL) | | | | |
| | | | | | Crude Oil Investories | | | | |
So, what are you looking forward to in the coming week? Share below and join the discussion