Hello and welcome to the weekly trading diary, a thread for discussing your trades, strategies, ideas, news, stories, etc.
---
---
A quick overview of how the markets performed in the week gone by;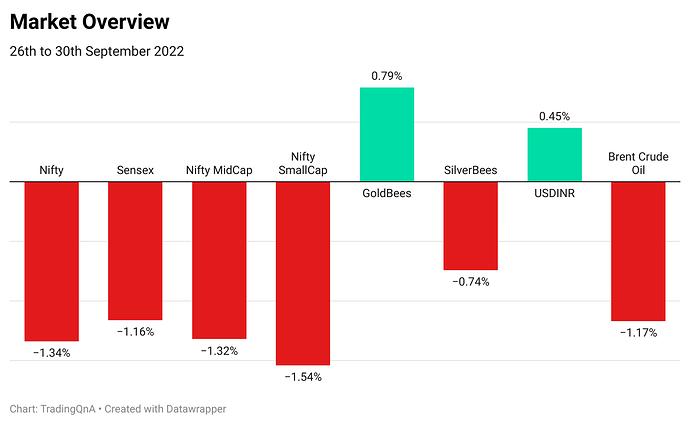 While markets saw a sharp bounce on Friday, investor sentiment continued to remain subdued for another week. Indian benchmark indices closed another week in the red. Nifty closed the week down by over 1.3%, while Sensex declined around 1.15%, down for the third straight week.
---
---
Here's how the sectoral indices fared in the week ended 30th September;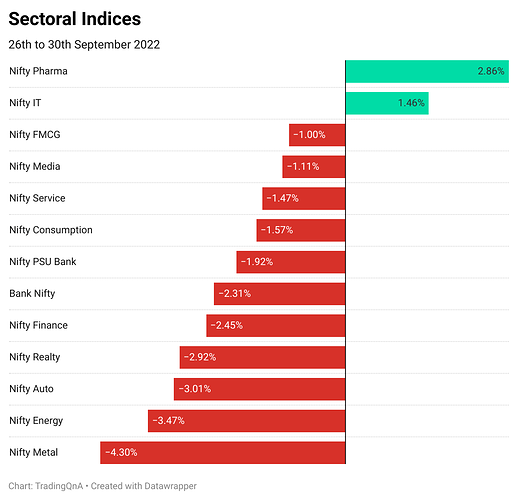 ---
---
A look at how the major global indices performed in the week;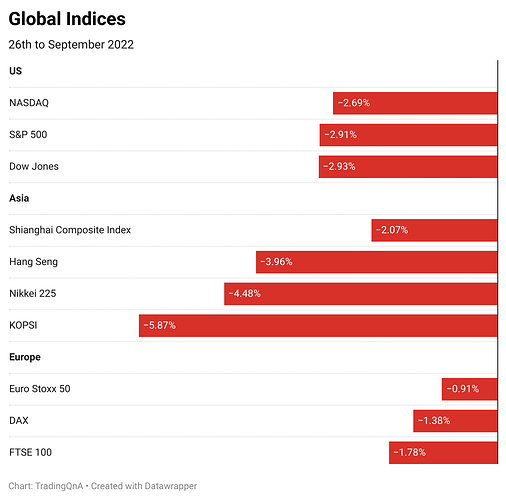 ---
---
Things to watch out for in the coming week;
IPOs
IPO of Electronics Mart India will open for subscription on 4th October and close on 7th October. Details

| | Period | Price Range | Bid Lot | Issue Size |
| --- | --- | --- | --- | --- |
| Electronics Mart India Limited | 4th to 7th October | Rs. 56 - 59 | 254 and in multiples thereof | Rs. 500 crores |
Things to watch out for in the coming week;
| | 3rd October | | 4th October | | 5th October | | | 6th October | | 7th October |
| --- | --- | --- | --- | --- | --- | --- | --- | --- | --- | --- |
| India | Manufacturing PMI (SEP) | | | Eurozone | Services PMI (SEP) | | India | Services PMI (SEP) | Chian | Caixin Manufacturing PMI (SEP) |
| Eurozone | Manufacturing PMI (SEP) | | | | Markit Composite PMI (SEP) | | Eurozone | ECB to publish Account of Monetary Policy meeting | | Non-Manufacturing PMI (SEP) |
| UK | Manufacturing PMI (SEP) | | | UK | Services PMI (SEP) | | US | Jobless Claims | US | Nonfarms Payroll |
| US | ISM Manufacturing PMI (SEP) | | | US | Nonfarm Employment Change (SEP) | | | | | Unemployment Rate (SEP) |
| | ISM Manufacturing Employment (SEP) | | | | Markit Composite PMI (SEP) | | | | | |
| | | | | | ISM Non-Manufacturig PMI (SEP) | | | | | |
| | | | | | Crue Oil Inventories | | | | | |
| | | | | | | | | | | |
What are you looking forward to in the week? Share below and join the discussion