A thread for discussing all your trades, strategies, ideas, news, stories, etc.
---
A look at what the markets been up to in the week ended March 4.

Indian markets continued to remain under selling pressure with Sensex shedding 2.7% and Nifty 2.5% over the week. Down for the fourth week running.
Things were not any different globally as well, apart from KOPSI, all other major indices were down. European indices suffered the most with FTSE tanking around 6.7% while Dax and Euro Stoxx around 10% each.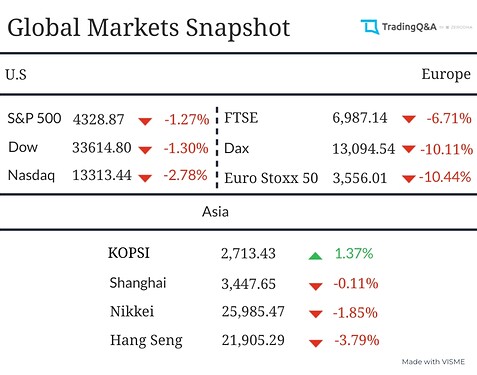 ---
---
Here's how the sectoral indices performed;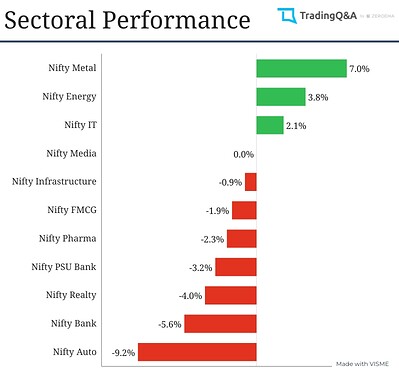 ---
---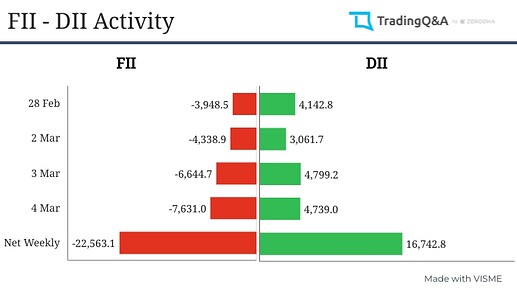 ---
---
Key economic events for the week;
| | 7 Mar | | | 8 Mar | | | 9 Mar | | | 10 Mar | |
| --- | --- | --- | --- | --- | --- | --- | --- | --- | --- | --- | --- |
| China | Trade Balance (FEB) | | US | Trade Balance (JAN) | | Japan | GDP Estimates (Q4) | | Eurozone | ECB Interest Rate Decision | |
| | | | Eurozone | GDP Estimates (Q4) | | China | CPI Inflation (FEB) | | | ECB Monetary Policy Statement | |
| | | | | | | | | | | ECB Press Conference | |
| | | | | | | | | | US | CPI Inflation (FEB) | |
| | | | | | | | | | | Jobless Claims | |
| | | | | | | | | | | | |
---
What are you looking forward to in the coming week? Share below