Not sure if anyone posted it already or not but here it is the 4th week thread.
Nifty may touch 11K tomorrow…
I don't think it will touch 11k tomorrow. That's a tough one.
May touch…hardly another 35 points…
Booked 6.5k in mindtree , STBT.
Did post result trades on rel , axis and jubl.
Very low premiums, probably my last trades for this week.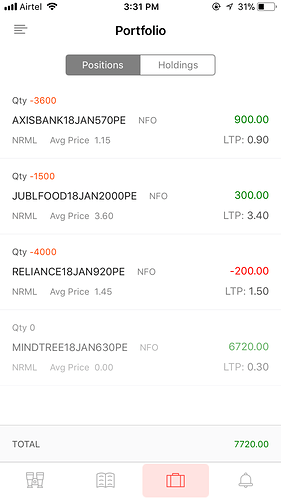 Tried options for first time. It was a rollercoaster ride p&l went to 1.1 lk then immediately came down to 75k now holding on to these positions not sure if I should hold till expiry.
@VelmuruganSengottai @sushil_sirari1 any tips ?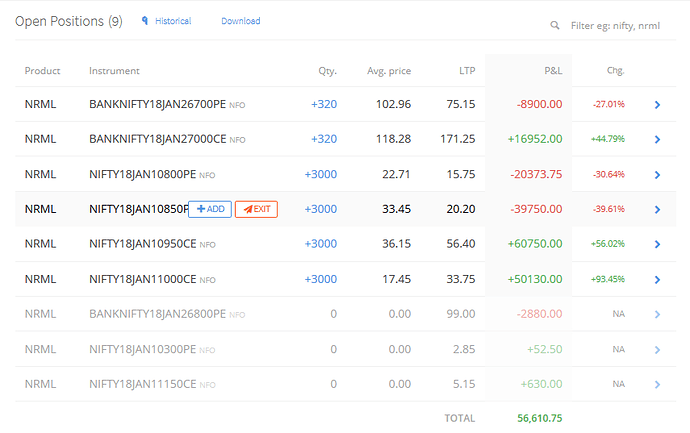 Thats truckloads of options for the first day of option trading.


This is the expiry week , if nifty doesn't move premiums will depreciate fast.
Don't put more than 10% of the corpus in net long in options .
Will the ITM long options also depreciate or just the OTM?
Assuming if the nifty expires at 11025 and I keep my positions as it is and exit on the expiry day before 3.25 what would p&l look like?
ITM now has very little time value left , so it move directly proportional to that of the index.
Today vix has gone up as well , another reason for increase in premiums ( i follow bank nifty and its premiums are high today as well )
Started with a bang.
Great start trading options for the 1st time
Nicely done bro …good work don't worry about premium depreciation vix shoots up 15.6 so much volatility . do exit at right time … All the best for expiry…

Nothing wrong here bro sometimes after market hours kite shows 0 price on open positions which is weird but if you check tomorrow it will show correct price.
So, what's your actual Profit?
If as per your assuming 11025 expiry your pL for nifty only around 140000 to 143000 excluding bank nifty…
But you will be in huge loss if nifty expiry btwn 10850 to 950 …
Suggestion - book profit if nifty cross 11000 any time before Thursday.
Stock to trade 23/01/2018