Is it primarily a hedge fund? Who are the potential clients?
It's an alternative investment fund(hedge fund). Their target customers are HNIs and UHNIs
Who has minimum 2 mil usd to invest, it is AIF category 3 fund
That narrows it down

I wonder that Nikhil is busy in managing true beacon so who now heads the prop book and rms of Zerodha and manages Zerodha's own proprietary book.
We don't have prop desk at Zerodha anymore.
He frame the policies and actively participates in making it efficient, TB has it's own CEO, believe he has time to handle both.
That is with normal AIF, with TB it is 2 mil usd, any AIF can set it's own minimum above 1 cr.
personally a TB client, hence the reply

Great! Hows the experience? Since how long are you invested? What's the investment style? And yes, how are the returns & how bad are the drawdowns?
it exactly a month now and 4% upside of invested capital.
65% in nifty 50 universe and 35% hedged with long short fno. The charges are very less and transparent compared with AIF peers to my experience.
Even the AIF is pretty new, i ll share their update below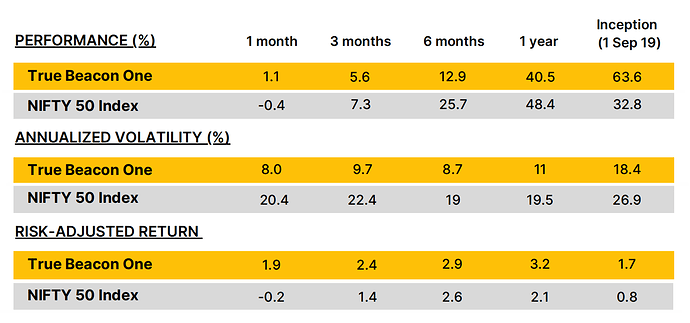 hope this helps. register in their website. RM will call you back for any queries.
My bad, remember reading 2 mil somewhere, just rechecked with team and confirmed, thanks for correcting.
Do these investments show up in demat? Can we see it on cdsl cas?
No. its an AIF, they manage the portfolio, we cant see the holdings or transactions.
That is a slight psychological downer I suppose. Not being validated anywhere else except the fund managers website.
But overall sounds like a good opportunity.
the returns are almost going hand-in-hand with nifty for past 1…only issue is with transparency as you are really not aware of the transactional components…how is the hedge generating the alpha over the index? drawdowns are also important to know especially in Mar 2020.
I believe it is same with any mutual fund/pms as AIf also falls under similar category, managing other people's money.
Looking at the graph provided by @gowtham4, it looks like the drawdowns were not much in March 2020. I think the goal is to outperform Nifty whilst smoothening the drawdowns. In the LT this fund aims to do 15% cagr or thereabouts is what is stated on some articles I read online.
With Mutual Funds you can see holdings in CDSL/NSDL cas. Not with AIF I suppose…
They would be month old, I mean they disclose a month old delayed holdings. Maybe gowtham should say more about AIF, what report they get types.
Yes the objective of this AIF is to produce an alpha of 6% above nifty 50 returns on a multiyear basis.
Since my holdings is just about a month+ I am not aware of any report on holdings yet, will get to know and revert. Since it is a passive investment, i was not keen to know what positions they have.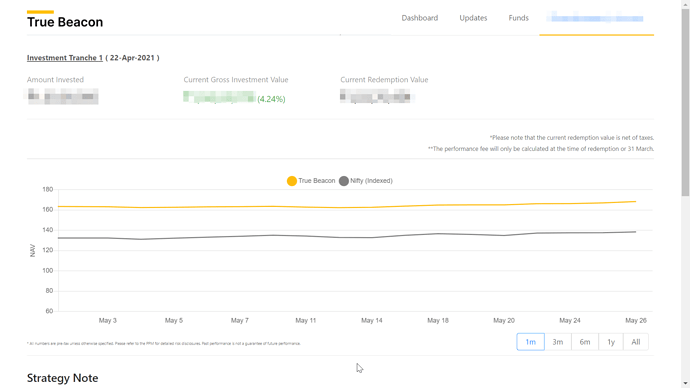 Above is the graphical representation of my investment status.