Recently, the stock exchanges issued a circular [NSE, BSE] towards increased networth requirements for stockbrokers. This is based on the amended SEBI regulation notified through the Gazette of India last year. A stockbroker in India now needs to have a networth which is higher of -
Base networth required
Variable networth of 10% of client funds retained at the end of the day.
Check the end of the post for an extract of the amendment with the networth requirement.
The regulation defines the method of computing a stockbroker's networth by considering the Capital & Free reserves and then deducting ineligible amounts from a list of non-allowable assets. This list of non-allowable assets includes the mention of a member's card.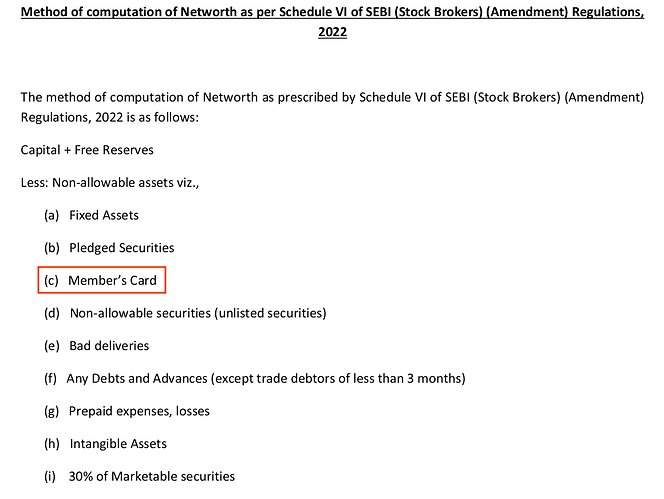 So, what exactly is a member's card?
Nowadays, membership in stock exchanges in India is deposit-based. This means if you qualify to be a member based on the exchange's requirements, you will need to place deposits with the exchange to become a member. However, before SEBI regulated the stock exchanges in India, the regional stock exchanges acted as SROs (Self-Regulatory Organisations). The membership of these regional exchanges (Bombay, Calcutta, Delhi, etc.) was based on a member's card ownership.
These member's cards were transferable and could be sold to someone keen on taking up the exchange membership. Since new stock exchange memberships were not easily available, the fastest way to start a brokerage firm would be to find a willing seller of the member's card.
Many brokerage firms that paid for a member's card would carry it on their balance sheet as an asset. Since the advent of deposit-based memberships and a streamlining of the onboarding process for new members, the member's cards no longer carry any value. In some cases, the regional exchanges that issued the card have also become defunct.
Therefore, to ensure that the value of an impaired asset is not considered towards networth, the regulation still makes mention of the member's cards.

P.S. Extract of the amended SEBI regulations with the new networth requirement for stockbrokers -