what is MCX MIS square off time?
Hard to generalise as day light savings kicks in. Best is to keep this generic rule in mind - MIS orders are closed 25 mins before market closing.
what are the months when day light happens?
Currently, the MCX market timings are 10am to 11.30pm.
Note: The closing time of the MCX markets are revised twice a year to comply with US Daylight Savings timings.

After the completion of the Daylight savings period, the MCX market timings will be revised to 10am to 11.55pm.
Usually MIS square off time is 10-15 mins prior to closing time of market.
25 mins before market close means 15:05 i,e 3:05 P.M
It doesn't sounds good because then its too early.
Commodity markets square off time is 25 minutes before market close. Equity markets square off time is 10 minutes before market close.
@Bhuvan How Can I activate my Commodity Account???
You can open it online or send us the form offline. To open it online, visit Zerodha.com and click on "open an account".
If you wish to send offline form, you can download it under the profile section of Q.
Hi,
For offline account opening, you can generate prefilled commodity application form using Q backoffice.
Login at https://q.zerodha.com/user/profile/
In profile page, you can see "Pre-filled forms"
Click on "Commodity trading" to generate prefilled application form
Now print, sign & courier to headoffice or submit at local branches.
Is This Possible To do it Online?
can I mail the Pre-Filled documents for fast process?
Yep, using your Aadhar to e-sign.
Online is always better.

#DigitalIndia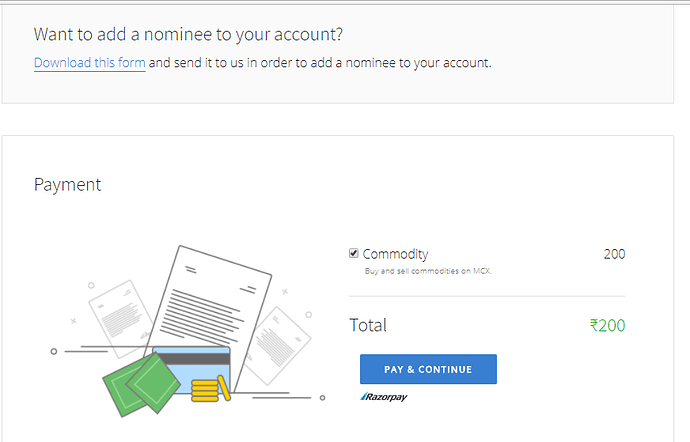 Hey @Bhuvan Getting This Option. Right now.
So, After This Payment I will have to Mail the DOCUMENTS Or Aadhar E-sign is okay?
E-sign, once you open it online all you have to send us is your ECN, nothing else.
Are there any separate annual charges for commodities?
Nope. AMC is just for demat accounts.
Hey @Bhuvan One More Que.
Just Now, I Linked My Aadhar or You can Say Verified.
Now, Is it compulsory to do the online webcam IPV. ??
I am Already online webcam IPV. Verified.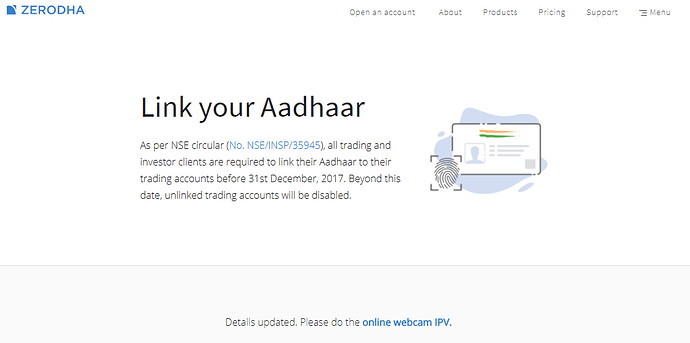 commodity trade have any obligation to account audit?
While trading futures and options, if your turnover > 2cr or if your turnover < 2cr but profit is also < 6% of turnover, then your account requires an audit. Learn more about how to calculate turnover for f&o trades here.