First check the trend of Market, when I say market it is NIFTY SPOT, if it is in UPTREND then buy calls. Now these calls should be close to spot price of nifty. eg. If Spot is 6678 buy NIFTY CE 6700 Option.
If market is in downtrend then buy Nifty Puts eg. if Spot is trading at 6639 then BUY NIFTY PE 6600.
There are many other strategies one can follow, but before that one has to perfect the simple strategy as mentioned above, along with strict S/L and Money Management Techniques. Hope this answers your question.
One day u'll stumble upon a best strategy by ur self. Having said that, keep track of the activity in global markets, current affairs, economic calendar, pre-market report & post-market report. Keep track of FII fund flows, current account deficit, stay away from news driven market activities. Strategy 1: Divide caital into 40:30:30 ratio. Use one part for trading while the second part is left as reserve trade in case the existing trade to go wrong. The final part is a Capital Reserve. Keep loss ratio on ur invested capital. Plan your exit. Make sure to book ur profit. Strategy 2: Divide capital into 50:50 ratio. Enter the trade of ur choice. Book small profit. Wait ur turn. Calm ur emotions. Repeat the strategy. Caution adviced with overtrading. Probability is the mantra on this method. The above discussed strategies are developed for self trade & I have achieved success on most of my trades. I treat trading as just the game of numbers.
market trand dekh kar aap nifty or bank nifty ka call-put OTM (out of the money) sell karo or month ke last week tak hold karo 100% profit hoga
I believe there cannot be straight forward answer for this. 
Time is money in Options. So, as a first step divide the timeline into short, medium, long term.
Current Month Expiry: Short term - 2 weeks, Medium term - 4 weeks(1month).
Next Month Expiry:  Long term - 8 weeks(2 months). 
Next, study the interested security(index or stock or usdinr). Based on the projected analysis of a security, decide to go long side or short side and the timeline that the security might fall into as mentioned above.
Then, based on your risk capital decide on the type of Option strategy that you want to play.
Options and Futures are sure way to loose money as these instruments are like gambling where in you place your bet.
The charts and indicators are forecasting tools for your wishful thinking.
In the end its the broker who is making money, not you.
Be aware of market conditions. Have a basic understanding of factors that effect the price of an option. And remember that seller's typically have an upper hand of being right. If you are a buyer, time is always against you. So, if you feel a stock would go up 2-5% in 2 weeks time, although you might be right in the direction, you might still not make money trading buying options. Then there is also an impact of volatility. The volatility is never realised. So, buyer always pays this premium. Keep an eye on VIX. If IV is high, then the risk of ending in a loss even though you predict the direction well is higher. Since time and volatility are against you.
A simple strategy that would earn you decent returns would be to sell far out of money calls and puts and hold it to expiry.
If you are working on large capital, a good capital preserving strategy would be to sell the options and use the option premium credits to buy directional bets. This way, your capital will never erode(although there is a capital erosion owing to inflation) and if your bets do work out, you are better off. Important is to be able to choose the option strikes wisely.
Buy one Nifty Future and buy 2 ATM puts wait for couple of days if it moves either side of the market it gives the profit, close the trade and do it again. if it doesn't move much close the trade and wait for a day and do it again. Minimum loss maximum gain.
Good luck :) 
what ever the best strategy u make but it will never be a secret.if u make 1000% more profit or more or less. the handlers would get curious and they will find out ur strategy and ur strategy will no longer work because its already made public not by u but it becomes public god know how haha. so lel .
one month i did some good profit i got a call about .
"wow sir wow u made some good progress in ur account.how did u do it.i can see ur using those indicators (naming it those were personally used by me very specific cordinates not generally used) .and said good luck with it ."
yea i got a good feeling.but i got pissed that because they handle the account they can see all they want and take a good look in ur trades and try to find out ur strategy and its gone public(gone public or not does not matter much) haha.
but peeking in to my trade account and seeing all those strategies made me a pissed offf really.that is what i felt lel.NOTHING MUCH
lastly - I DID NOT NAME ANY BROKER FARM (disclaimer)
education purpose only haha
With introduction of bank nifty weekly options, any options trader can write far of Out of the Money call or puts during the expiry days to take less risk and high probability trades...
As sellers of the options are always at the advantage because time value decay usually work in their favor. Even you can see a big increase in the open interest in the out of the money options during or near to the expiry days.
With weekly options, now we can do writing of options 4 times in a month to take benefit of time value decay.
Technical charts can be utilized to see the major resistance and support levels within last days of the expiry as the options writing above or below these anchor levels can be used to take small profits but those which have higher probability of success.  Also, writing works in favor during the last two hours of the expiry day.
With experience, we can start trading big lot size to make big profits from this.
You can visit How to Turn Bank Nifty Weekly Options into a Regular Income-Driving Machine?via JustTrading.in to get more on how to plan, trade and make money from these bank nifty weekly options.
Enjoy.
if you are new to trading do not start with options. it is more dangerous. start with equity shares and try to learn how to use trading terminal effectively using various order types like bracket order, cover order , stop loss order etc.
after you are good with those then you can think of options. Options are used for hedging purpose. means more sellers. you can wonder how sellers will be more than buyers ? that is because it is sellers who decide the price. they make more money by selling more. because the more they sell more fall in price so the end up in profits easily. Options buyers will only loose. 99% options buyers loose money.
do you want to trade with 1% probability of winning ?
I am trading in options with limits up to 15 days to expiry not after that.
if some thing comes easy, then it will be for both loosing and gaining.
do not watch TV while you are trading.
Every OPTION trader should know Nifty trend first as OPTION market trend depends upon Nifty trend. If trader know Nifty trend is positive, then he can only buy "Call option", otherwise it will be gamble. Knowing trend or direction you can protect your money. If Nifty is bearish then buy "PUT option". Trader should use Live Technical charts to predict trend or use FREE Nifty trend tips.
NIFTY TREND and BANK NIFTY TREND is updated daily in below website with support, resistance and World economic news. Trader can take the help of the information to know technical trend and trade technically.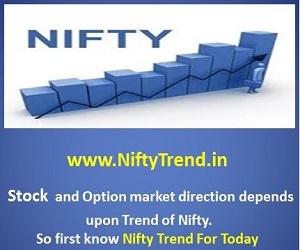 Probably you should trade Options based on open interest. It is believed as a Confirming Indicator by numerous traders across the globe. It generally confirms the market trend (whether its rising, falling or sideways) when used in conjunction with other parameters like volume and price. It also measures the flow of money in the market. Check out the below article for a comprehensive guide on OI analysis with a supporting excel sheet:
http://tradingtuitions.com/open-interest-analysis-excel-for-options/
Thanks for the wonderful explaination

Its good to know that the shared information is benefiting the trading community. Thanks to Nithin for initiating Zerodha & its subs…
with this strategy wont the profit from future (if Nifty moves up) and loss from PUT options cancel each other?? or vice versa?