The Scanner in Zerodha is Stock Scanner feature and it can be accessed from the Alerts menu in Main menu.
A stock scanner is a tool that allows user to search several symbols simultaneously for certain criteria.
The stock scanner that is built into Pi allows user to accomplish this by means of the TradeScript.
To create a new scanner, select Scanner from Alert menu in the Main menu. Next, click on New Scanner button. A dialog will display: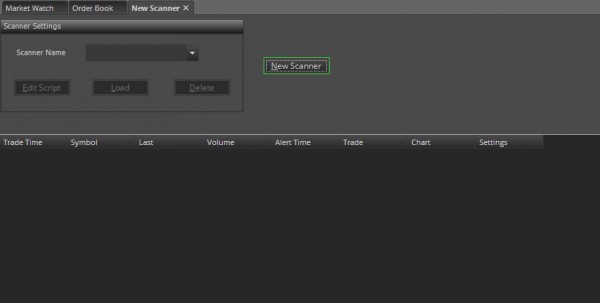 To create a new scanner, select Stock scanner from Alert menu in the main menu. Next, click on New Scanner button. A dialog will display: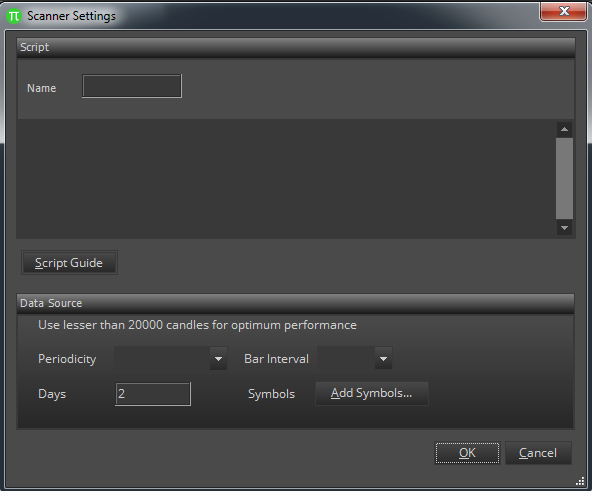 Here user could give name to the scanner and simply type trade script into the script text box then choose the appropriate bar interval, periodicity and no. of days values. Always use candles less than 20000 for optimum performance. Next, click the Add Symbol button to add symbols on which user want to run the scanners.

Here user could search the Symbols and add to list of symbols on which he/she want to run the scanner. Click OK button to select the list of symbols. Now select OK button for saving the scanner.
User could now see the newly defined scanner in scanner list. Just select the scanner and press Load button to start the scanner. User could also edit or using Edit and Delete buttons.
The scanner gets loaded in the list of scanners created by user. User can select the scanner and click Load button to start a scanner. Scanner allows for one symbol per new line.
The scanner will take several moments to load the historic data into memory; therefore this start-up task should be run prior to the market opening.
The back test screen will run in real time after the historic data has been loaded into memory.
The Trade Time cell indicates when the last trade occurred. The Alert Time cell indicates when user's script last generated a signal.
The Trade button allows user to place a trade, the Chart button allows user to open a chart, the Settings button allows user to customize the script for the selected symbol only. The stop button will give a message box ask you "Stopping the scanner will require a complete re-priming of data if user wish to restart the scanner" and clicking on Yes will stop the scanner or clicking on No will continue with the scanner.
The scanner can be edited, by clicking Edit button and the script bars, bar intervals etc could be changed and saved. The scanners can be selected in list of scanners and deleted by clicking Delete button.