The 18 minutes of trading chaos that broke the nickel market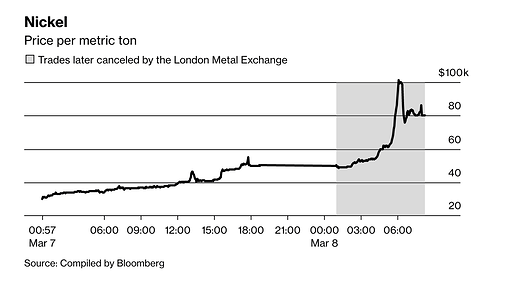 March 8 marked the first major market failure since Russia's invasion of Ukraine jolted global markets, showing how the removal of one of the world's largest exporters of resources from the financial system in the space of weeks is having ripple effects across the world.
Prices of nickel usually move a few hundred dollars per ton in a day. For most of the past decade, they have traded between $10,000 and $20,000. But on March 8, things unraveled, prices of Nickel saw a 250% spike in little more than 24 hours to trade at $100,000 per ton. Sending industry into chaos, triggering billions of dollars in margin calls for traders who bet the wrong way, leading the London Metal Exchange to suspend trading for the first time in three decades.
The LME also made a near-unprecedented decision to cancel all the trades that took place on Tuesday worth $3.9 billion. Effectively, it rewound the market to the moment when prices closed on Monday at $48,078.
While this decision meant traders wouldn't need to pay margin calls based on the $80,000 nickel price. Investors who had booked trades during the chaotic session in the early hours of Tuesday were furious. Among them were some of the biggest names on Wall Street.
This story by Bloomberg gives a detailed account of this;
---
---
Financial Warfare
As a means of inflicting economic pain, targeting the banking system is a good place to aim. The world learned that accidentally during the global financial crisis and after Russia's invasion of Ukraine, instead of taking arms against Russia, world superpowers decided to take a different approach, taking advantage of global financial interconnectedness and attacking where it hurts the most.
In the first wave of financial sanctions, Russian banks were shut out of the correspondent banking system for US dollar transactions. Since then, sanctions have ramped with global bank messaging network SWIFT disconnecting some Russian banks, affecting their ability to transact globally.
Though the most devastating sanction to be imposed was on the Central Bank of Russia with Central banks around the world freezing assets of CBR. Essentially freezing around two-thirds of the Central Bank's reserves. Leading to a collapse in the value of Ruble.
More and more sanctions have piled up on Russia over the course. The London Stock Exchange announced the suspension of Russian shares listed on its market. Index provider MSCI announced it will remove Russian equities from its market indices. And all these have also led to a mass exodus of global companies operating in the country.
---
---
Facebook which is now Meta harnessed a dream to build a bitcoin alternative, Libra. Blockchain technology and cryptocurrencies had become useful tools for lofty obsessions of programmers and utopian technologists. But they had yet to be adopted by any big corporations. And for Facebook's more than two-billion-strong user base, crypto could offer a convenient and cheap way to move money around the world, and for the social media company itself, it could provide a treasure trove of data about what people spend their money on.
The dream was for Libra to be like bitcoin, a currency owned by no one group and built on open-source technology but with some difference, it was going to be backed by something real: a reserve of low-risk assets including bank deposits in various currencies and US Treasuries. Libra also managed to bring aboard companies like Uber, Vodafone, Spotify, Visa, and Mastercard as its equal founding members. each guiding the project's development and, eventually, integrating Libra into its services, bringing the digital coin to consumers worldwide.
But despite all the high ambitions and big backers, the wheels started to slowly come off for Facebook and their dream as members started backing off following political onslaught on Facebook. Within a matter of days, Libra lost 25 percent of its members, Visa, Mastercard, Stripe, and eBay among them.
Concerns around its viability led to regulators developing cold feet. Libra rebranded to 'Diem' but that made no difference and the project no longer has a launch date. As one government official involved in the process puts it;
"Diem spent years trying to reverse engineer their project to fix all of its faults. But they could never fix being linked to Facebook. It was their original sin."
This deep-dive from FT looks at the botched-up attempt by the social media giant to launch a digital token.
---
---
In 2018, BlackRock CEO Larry Fink declared that "demand for ESG [environmental, social, and governance] is going to transform all investing." At the time, Fink's assertion seemed bold. Today it looks prescient. Escalating social and environmental challenges and claims that ESG investing can deliver alpha (outsize market returns) and a more sustainable planet have prompted investors to divert more than $3 billion per day to ESG investment products. According to Bloomberg, ESG investment now represents approximately one-third of all professionally managed assets.
This article by Andrew King and Kenneth Pucker at Institutional Investor sets aside the question of the social and environmental impact of ESG investing to examine claims that ESG funds deliver alpha.
---
---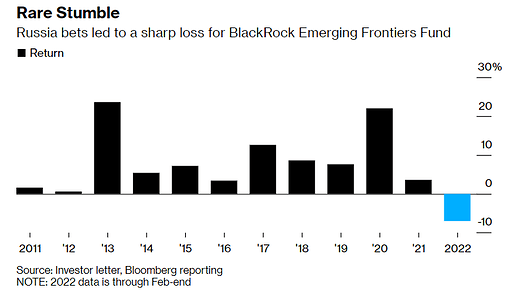 One hedge fund team at BlackRock saw Russia's invasion of Ukraine as an opportunity to increase its exposure to Russian stocks. With 9% of its gross assets invested in the country's shares, after a research trip to the country in January. Sam Vecht, head of the team that manages the fund, told investors he raised the bet further when the invasion began. That decision backfired and BlackRock's Emerging Frontiers Fund plunged over 10% in February, suffering the worst trading loss since it started more than a decade ago.
There's always something you cannot anticipate. There's always some wrinkle or nuance that becomes a lot more important than you might have originally thought. Change is constant. You might be in possession of knowledge that is no longer applicable to the current state of the world. And sometimes, no matter how smart you think you are, no matter how highly prized your judgment is to other people, you just f** things up.*
It happens! Experts are not Gods! Experience helps, it does not guarantee anything.
All of this is especially true when it comes to war, the ultimate exercise in unpredictability.
Sam Vecht is among the world's foremost authorities on investing in Russia and in understanding the situation in Eastern Europe. Studied international relations and history prior to his multi-decade experience allocating capital there. His knowledge stretches far beyond the bounds of mere stocks and bonds. And he still f*ed it up.
---
---
What to listen:
---
---
So what have you been reading, listening, watching to? Share below