Let's share all the interesting domestic updates, articles and insights here on this weekly thread.
Nithin Gadkari said in the 63rd SIAM Convention that he has requested finance minster to impose an additional 10% GST On diesel vehicles.
Negative news for 4 wheeler companies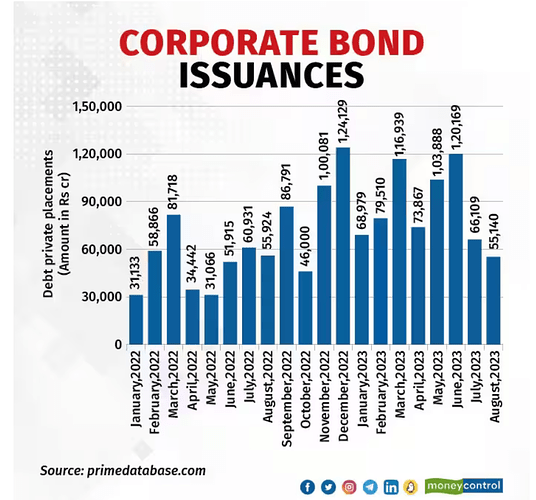 Companies issuing bonds is at a 10 month low primarily due to higher yields (which have risen by 15-20 bps) which is due to higher inflation print. Even GSec yields are trading higher mainly due to higher interest rates in US.
This is a great move by RBI
As per the latest circular, Banks and NBFCs have to mandatorily release collateral like documents of property within 30 days of loan repayment. Any delay will result in fine of 5000 Rs. per day.
Documents can be taken from any branch not just the home branch.
Deepak Shenoy explained this in detail in his tweet

https://x.com/deepakshenoy/status/1701877828990668874?s=20
https://rbidocs.rbi.org.in/rdocs/notification/PDFs/NOTI60936A9DFA85554DD1BF77BCF4611AA69D.PDF
E-way bills, which basically denote the movement of goods to be generated on the eWay bill portal whenever the goods in the transport vehicle exceed Rs. 50,000, are up by 6% MoM and 20% YoY with intra-state bill generations up ~23% YoY and inter-state rising ~14% YoY. as Logistics activity picked up in Aug'23 after a muted trend in Jul'23.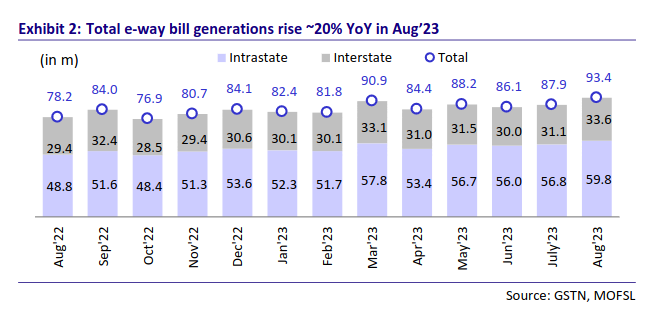 Source: Motilal Oswal