How do I figure out the interest payment dates and the record dates for gold bonds I invest in?
The interest is paid out every 6 months from the date of issue of the bond. The date of issue can be found here. All interest payments will be directly credited to your primary bank account.
If a bond is issued on 1st Jan, interest payments always happen on 1st July and 1st Jan. Since there are no ex-coupon dates, you need to have the bond in your demat by 30th June or 31st December.
If the interest is not credited, what is the step for resolution?
Can't Kite 'Event' notification nudge us for an upcoming interest credit, like how it does for any stock for corporate actions like earnings release or dividends? Investors can plan to accumulate or sell accordingly.
This is a wonderful idea. Does Kite currently displays the Dividend date?
We are planning to show payment dates in fundamentals, if possible.
Yes. An 'Event' tag shows up next to the Stock Name in your Kite holding as a nudge for any upcoming important corporate actions - like Earnings Release, Dividends, Bonus, Split etc. That's a very handy information.
You know, this would also help in increasing liquidity of SGB in secondary market. With this handy information people would tend to trade accordingly (some would accumulate more and some would sell off) and these trades would make the bonds more liquid in secondary market as the bonds change hands more often. Currently the trade volumes are quite low in comparison. Good step indeed.
@Siva, first of all, Thank you very much for supporting Inter-Depository Transfer in Zerodha. This enables us to purchase SGB from secondary market and get them credited to our Demat A/C. As far as I know, no other broker is supporting this. This is one of the main reason why I opened a/c with Zerodha.
With respect to interest credit for SGB bought from secondary markets, how will RBI know the bank a/c to which it has to transfer the interest? Does every demat a/c have a bank account linked? If so, where shall I check whether my bank a/c is linked properly?
I am yet to receive the interest for SGBAUG28, but few of my friends have received it yesterday.
Thinking that there could be some problem in the demat a/c and my bank a/c linking
Your demat is recorded at depositary level so it is taken care, if you haven't received in a day or two then you can write to RTA, for SGBs and Gsecs NSDL and CDSL act as RTAs so you can write to them.
Thank you @siva
How do we link the bank account to demat account. It's it done by CDSL or ZERODHA?
You don't have to do anything. This is already done when you open a demat account.
I am using a simple hack to get alerts for interest credit for my SGB until team Zerodha implements it officially in the Events Nudge.
Step 1: Find the date of issue of the SGB from the NSE list and thus determine the interest credit dates.
If you have SGB in your portfolio and you are registered for CDSL Easi, you can get the maturity dates. That's the first cue to calculate the interest credit date.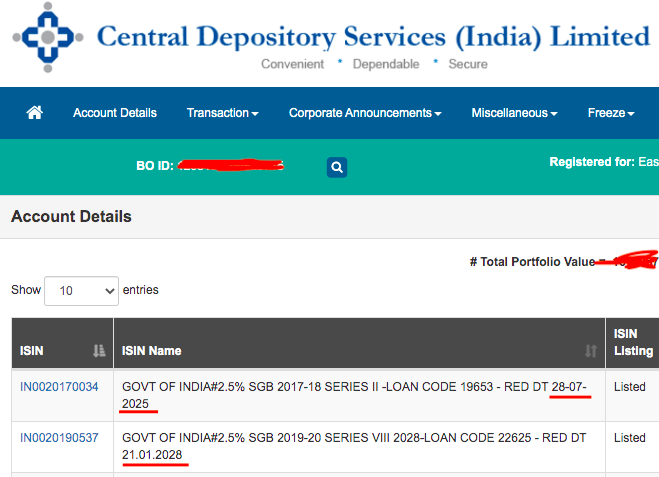 Now as mentioned above, the interest is credited semi-annually e.g.
For SGBJULY25, interest would be credited on 29th July and 29th January of a year. And the maturity date is 28 July, 2025.
Step 2: Open Google Calendar and set recurring reminders every 6 months for the interest credit dates until the maturity date.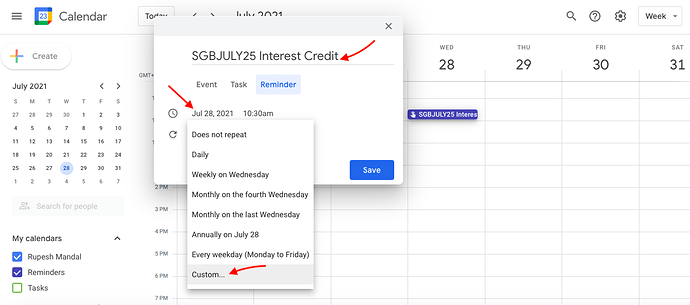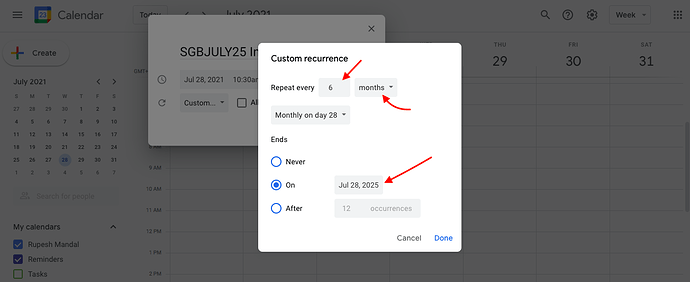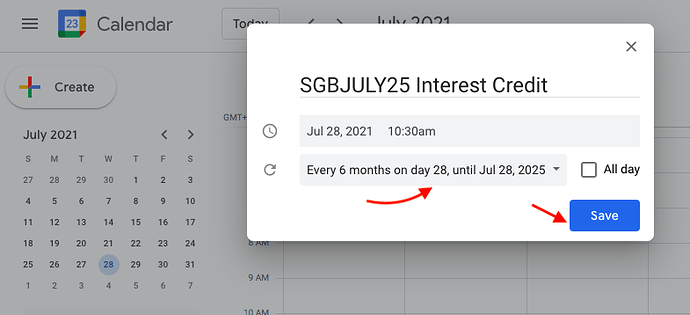 Step 3: On the said date you would get a reminder and it would be repeated until the maturity date of the SGB.
That's it. Done!
Theoretically, you may see some trade volume in-around the interest credit date as sellers may want to sell it after getting the interest, and buyers to hold for long may want to buy it at a cheaper rate.
Hi, whether GSec are presently accepted as collateral for margin. I wish these are included in cash component list. Request comments by Team Zerodha.
Yes, you can pledge G-Sec's for collateral margin and these are considered as cash equivalent. You can check out the complete list here.
In case it helps, I had put together a list of interest payment dates for the 47 tranches of SGBs on this thread
Thanks for responding. One more question. I have read somewhere in this forum or Zerodha varsity that listed items are not actual bonds but bond future. I want more clarity on this whether I will be getting interest or not. I m very disappointed by nifty bees / Icicicliq return which I use for cash component for fno positions. Whether shifting to GSec for cash component will have any substantial benefits. Pros and cons? Can anyone help in further understanding please.
The listed bonds are actually bonds, not Futures. You'll also earn interest on the bonds. You can learn more about G-Sec's in Varsity:
You can use the link mentioned by @bhuvan. That is right, I think.