Where do i check XIRR for my stocks in Zerodha demat?
Please introduce it in Kite.
Hello,
The feature of XIRR is still unavailable in Kite. As is feasible, we hope to introduce this feature in the future for the benefit of traders who make investments, especially in a sporadic fashion.
This article on XIRR throws light on how it can be calculated using Excel with the pre-defined XIRR function. You will be able to do it yourself if you follow the instructions as mentioned in the article.
Is this feature in pipeline yet?
Not yet, will take more time.
Can you please also clarify why it is taking so much time?
Query pending since feb'17. Being the top broker, zerodha must provide xirr returns on individual stocks.
It's March of 2021, still can't find this feature
Any updates on this. Please implement it.
4 years, still following up
Looking forward towards getting this in kite.
@BharatW
It's been three years why is this feature taking so long…
Zerodha is top broker and this feature should be available don't you think?
@siva we really require this feature in zerodha, Please take this as priority otherwise it is very hard to real value from our investments.
Please discuss this with your seniors also.
It is not straight forward to do this calculation at portfolio level as many buys and sells are involved and paying and payouts and we follow FIFO model to calculate pnl.
As a developer I understand it can be a complex architecture but it is definitely not 4 year complex.
For anyone looking to find XIRR, till the feature is implemented on kite you can use the below method. PFA screenshot.
Go to console>funds>statement

select date range and download the csv

open csv on google docs or libreoffice

delete every other row which do not involve stock buy or cell

for every stock buy change the debit amount to negative. Example 10000 to -10000

add a new row with current date and holding(positive value)

use xirr formula, with value and date columns.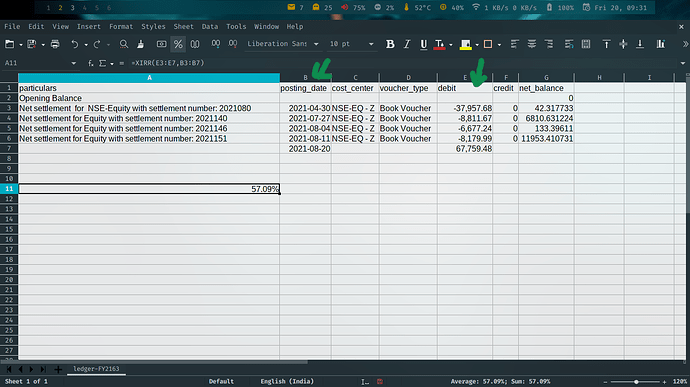 We don't need to have XIRR at portfolio level. Can we have XIRR at individual stock level like we do for MFs in Coin?