What a mad bull run in the indices


Looks like @Jason_Castelino prediction will hit today.
Super excited to see CE writers running for cover.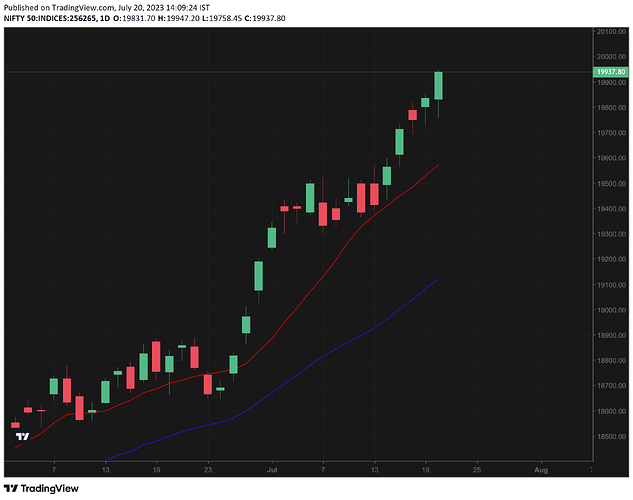 ATM CE still having OI buildup. Who will run first?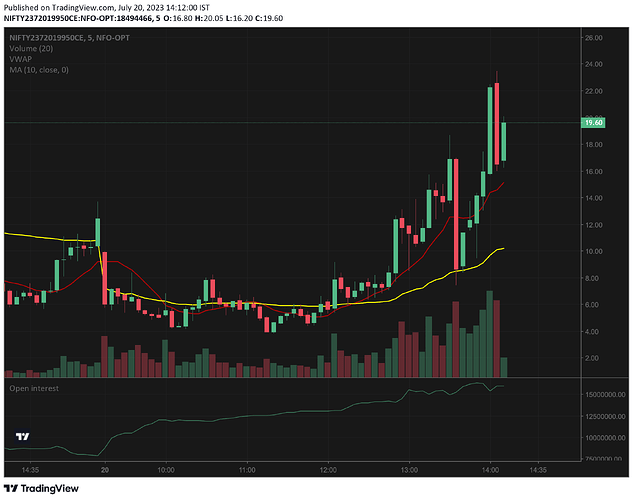 P.S Spot is high than July Futures.


Good results from the banking space can take bank nifty to 50k as well if we are to see a euphoric run
It's not even Sep 2023 yet.


I suppose if we don't get 20K close today, we might see a spike up in the market open tomorrow.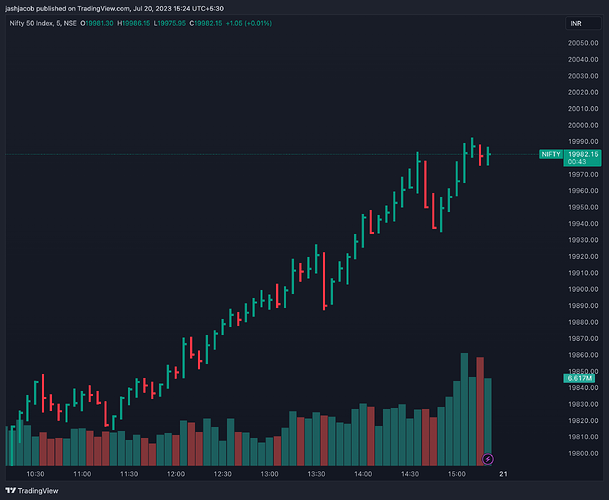 I was the one ready to cover at 20000ce. Lol. I like upmove but not this fast.
I actually gave the reasons too.
I have also mentioned about 21k by March 2024 somewhere in this forum.
Now let's see if that happens.
Oops! Took an L on that trade.
If nifty crashes today, then i will start seeing MUTUAL FUNDS SAHI HE ads in twitter feed from tomorrow!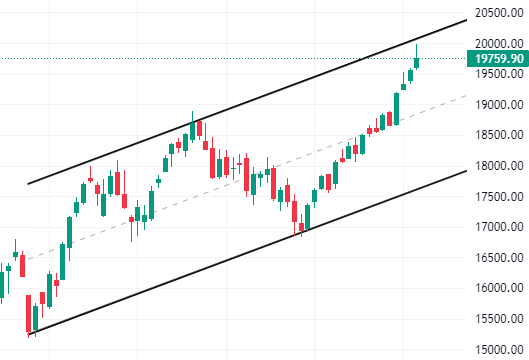 Correction as expected from a Technical point of view.
Where were you yesterday man with your lines? Should have shared your technical expertise here also yesterday rather than posting them after the fall. Hindsight bias ftw!
Oops! Sorry about that.

20k is a psychological level and the market is in an overbought zone. Both Nifty and Nifty Futures couldn't take 20k yesterday. Only Gift Nifty took 20k. Which is a sign of a bearishness or a small profit booking. Plus this technical resistance level. The same happened on the day when Nifty tried to take 18k for the first time. The market is repeating itself.
Damn…My 20k shirt.
I hope the size fits the next time I get to wear it

Okay, then as per your technicals, Nifty fell before touching 20k because earlier too Nifty had fallen before touching 18k.
Then why didn't Nifty fall before touching 19k? What's so special and psychological about 18k and 20k but not 19k?
See the charts once Nifty came close to 19k, it just crossed 19k and it never went back to 19k again.
All these stupid technicals my gosh. 18k and 20k are special psychological levels and 19k is not because again Hindsight Bias.
Next time @Prakashsingh will get everyone one

Its totally okay if an user has a view or idea as long as he is making money. We need not judge other's bias or sentiment.
chill !
I jinxed it big time.

it is easy to draw this for past candles.