Just looking for some effective scanners that can help in taking positions in intraday or positional swing.
Thanks. Can you suggest at least 4-5 more? that would be really great
Top Nifty 500 gainer/loser for me never fails.
There is a plethora of scanners on the discover scanner section but cross overs and intraday bullish ones are my favorite
i personally have created some by referring to discover and with streak support team help. basically i find narrow range stocks (volatility contraction) and then i trade on them! it has been working well for me. i have it live since a long time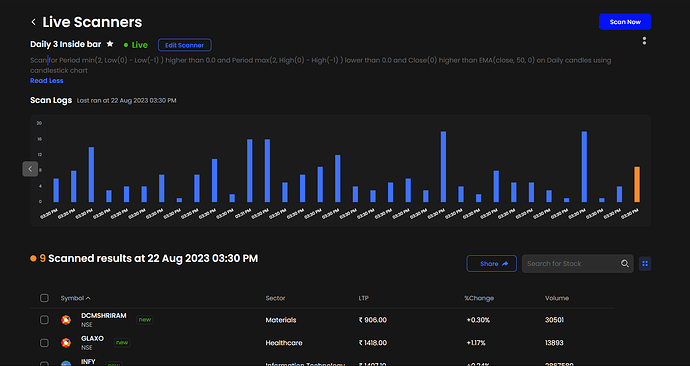 Here is the link if you want - Daily 3 Inside bar
same i have for Weekly inside Bar
cannot agree more. best page to analyze simple and effective technical data points
Thanks for the useful information
Range breakout and 50 ma and 5 ema crossover scanners on the platform provided some good trades so far. I am yet to see the long term effect though
I love all the chart pattern scanners created by them.
I dont have to check manually on each chart I just get notified when a pattern is formed.
I like the 52-week high and low scanner. The feature of getting notified is best or else you have to check the data daily online.
Here I get to to know the breakout immediately
The rectangle and triangle scanner are awesome. I saw them on youtube and got to know about the platform. You should try that.
Can anyone share their scanner which they have created and gives good stock for intraday or longterm?