Which broker gives MAX Intraday leverage for Nifty Futures ?
I think it must be ICICI Direct
At Zerodha, if you place a Bracket order for Nifty Futures with stoploss within 1.5% of your entry price, then you get 83 times leverage with respect to the contract value.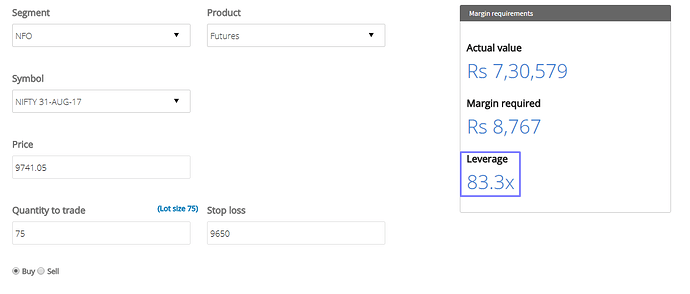 Bharat, Thanks for your input.
Frankly, Bracket Order is an Intraday Product with no specifc use to a retail trader.
With brokerage been charged for each leg of the order, it is a trap order than serving a useful purpose.

With no options for averaging trades or multiple entry positioning or modifying stop loss , the bracket order is not good for seasoned traders.
I strongly think that the current concept of bracket order in India as it is now, is far too outdated.
Brokerage is charged per executed order, regardless of whether it is BO, CO, MIS or NRML.

You can take multiple BO positions, it's only that you cannot add to the same position. In a sense if you take multiple positions you are averaging your trades but you'll have to manage each of them individually. You can also modify target/stoploss after entering the trade.