Why are the FIIs selling so much in the Indian market from last 2 months?
they feel indian markets are overvalued and found some other markets that are looking undervalued and hence doing shopping and fishing there
Some of the possible reasons could be:
Disruption caused to Economy by first Demonetization, then by teething issues in GST Implementation
India's Nifty is currently highly overvalued with PE above 25 and no earnings revival in sight. Other emerging markets like Brazil, Russia etc look attractive with PE under 20
FIIs are very deep pockets, shrewd minded, professionals & smart enough to judge the overall condition of economy and sectoral impact and dont trade for sake of saving any stock unlike DIIs who mostly headed by LIC are often the saviours of Stocks especially PSUs
FIIs are always considered as hot money and their investment pattern is based on the times when they would be most benefited. So if they sense that market has corrected enough as per their set levels, they would again start buying irrespective of our sense & judgement of economy. They are indeed market makers.
See the snapshot below showing last 12 months activity of FII and how Nifty has danced to their tunes barring exception of 1 or 2 months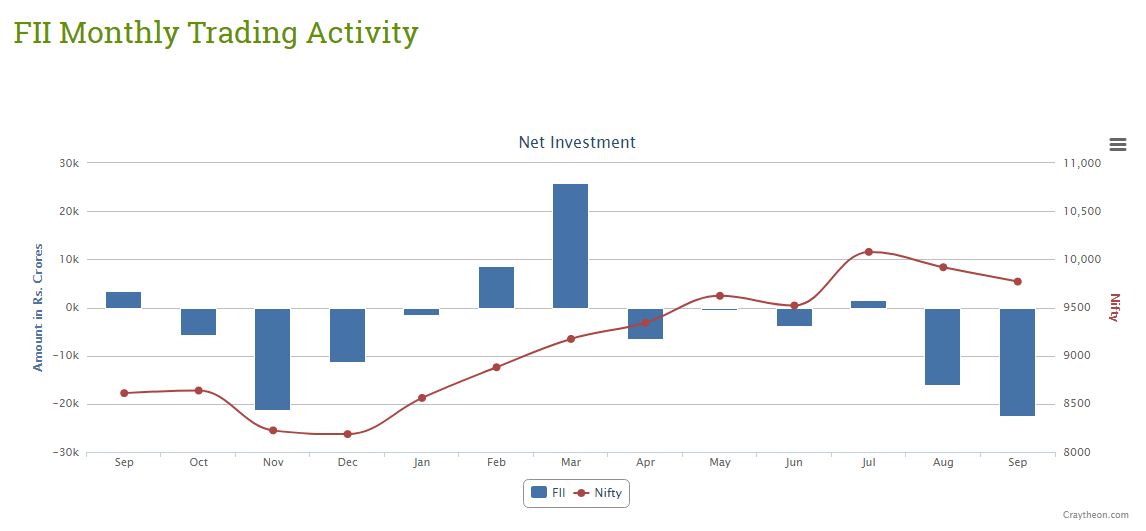 Thank you. well explained