Price action or Technical Analysis shouldn't be applied to options. Instead, apply them to the underlying assets.
@Curious-Investor "Apply them to underlying assets". I didn't understand.
There are 12 banks in Bank Nifty Options. You mean to apply on those banks? Please clarify?
Yes… price is everything by @alphaT is very good topic on PA
Not on 12 Bank Nifty stocks, apply your Analysis on "Bank Nifty Index".
Apply technical Analysis on the bank Nifty index. Also, while trading Bank Nifty, pay extra attention to HDFC bank, ICICI, Kotak. bank. They have around 70% weightage in the Index.
@ShubhS9 @Curious-Investor @alphaT Sorry, my mistake in understanding. Thanks once again for clarifying Mr.Shubh.
Tried "Bank Nifty Index" as there were no volumes "Vwap" indicator was not appearing. What about using indicators on "Bank Nifty Futures" to trade on Bank Nifty Options? But even on "BN Options" indicators are showing proper signals, if I am not wrong. As per your guidelines (Mr.Shubh & Alpha Trader) on "Price action" today my only 2 trades were profitable. There are no words to express my gratitude. Also started using "Black Lotus" app. Alpha traders voice is OUTSTanding!
That's a fabulous attitude. You have to burn the boat, to take the island.
Do not focus much on the money making part when you start out. The first few years usually call the idiot years, ll break or make you. These years ll test your mettle.
The focus should be on surviving. There ll be many times, many more times when you feel it's not working. When your strategy seems to work, you finally want to put more money. Then it fails.
You start over. It fails.
The dejection. The pain. Self doubt.
I do not know about you. I do not know how much passion you have. I do not know how far you are willing to take it. I do not know how many times you ll get up after being down.
But losses doesn't matter. A trade doesn't matter. It's the accumulation of trades that ll come down the line, say 5 years, 10 years and more.
If your attitude is right, you ll love the process no matter the pain and the necessary sacrifices.
Intense,huh. There is no other way. No easy way.
Agree. That's why starting small is important.
And equally important, exercise daily. Gonna keep that mind sharp and focused.
@Smak_DxbUae - Please accept my gratitude as well, for your kind words. You are a kind person and am sure you will love the BL app which is a beacon of kindness itself. Continue in your journey in trading & beyond that, with dedication, am sure you will reach where you want to.
-AlphaT
Noted with Thanks @ronin_sha, appreciated your reply.
About me, I am a Software Engg. started trading as a side hustle.
I want to be among the top profitable traders in India in next 5 or 10 years.
right now i am in loss but i know if i have right attitude, physiological aspects, money management, discipline, etc then i can make it in this business.
Yes, you are correct in starting small & what experience i get in each trade is a lesson for me for next trades. I notice that if I trade 50 or 100 qty then i make small profit but if i trade more qty then i book small/big loss. because then i did not cut the trade if it goes against my direction. I wait for it to reverse.
Bro, even if you have started small, don't bet everything on one trade. Use position seizing and trade in multiple stocks so even if your one stock is down other can recover your losses, trading is not about getting it right everytime but about smart money management. See I've personally divided my capital by 10, so if I've 50k i only take position of 5k in one trade and risk 2-3% of that 5k.
Yeah man. You are shooting for the stars. Go for it.
Just get the statistics right &, manage your risk. Cuz risk is the only thing you can control once you click the mouse.
And as the years progresses, hopefully you would be there wiser, and by that time, you ll love the process of trading, more than the profits.
The beauty of trading is that its perspective changes the longer you stick around. It beats the hell out of you and make you aged better and crazier. Kidding , more calmer.
Simple trick is use EMA with period 10 or check which period(not more than 13) the stock is respecting more. If the candle closes below the EMA then exit the trade. You can use ALMA also.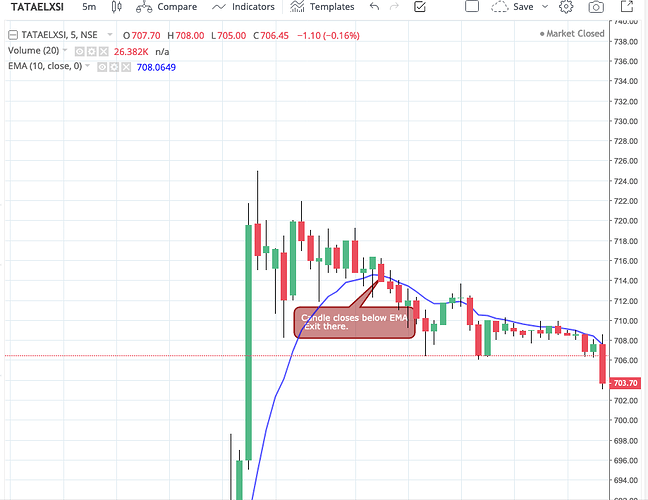 After long time I made a trade. This time it is not intraday but I just buy the indigo 8 stocks & that's it.
Trade logic,
based on supply & resistance.
Last week in US-Iran tension, whole market was in red but the indigo stock price was not affected much.
In the monthly chart, stock was just reversing from monthly support.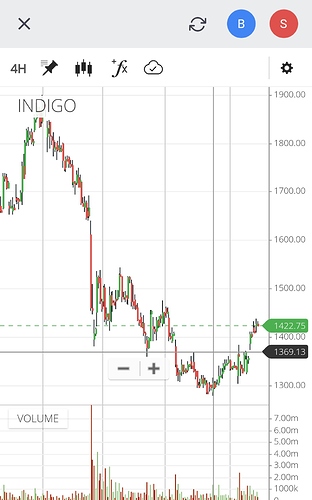 As shown in chart, stock will reach to at least 1700 in next month.
Late update…
Got around 200inr profit in this trade. Reason did not exit when trade reversed. Keep waiting to again continue the previous trend.
Trade is of how many days??
I hold that position around 3 weeks