is pi third party software???
PI is a software developed only for Zerodha by a startup called Trade labs started by two IIT kharagpur graduates, in which zerodha has invested around 2 crores as far i know.
YOU SHOULD CHECK SAS ONLINE ALPHA TRADER THEY ARE SAME PRODUCT BUT DIFFERENT NAME
strong text
Yeah check which company made it, if it's trade labs then they are the same.
ya just checked it out, its absolutely same.
yeah know that same company made the software whose majority investor is Zerodha.
Zerodha Provide us Cheapest Realtime data feed of NSE.
Live feeds are very costly. You can check out at NSE website.
It's Just Like Selling Same Product to Diffrent Clients.
Zerodha must be not paying them.
Zerodha may be trying to compete with NEST Trader by sharing the PI software with their peers.
So THAT WHY PI (WORD THAT I CANT SAY)!!!
AND DOES ANYBODY USES PI BACKTEST "ARTIFICIAL INTELLIGENCE," I THINK THEY ARE JUST FOR MARKETING PURPOSE.
Basically Pi is a 3rd party software which Zerodha has leased.
That 3rd party's investor is Zerodha.
Tradelab is just a startup where i think zerodha has invested some money. Tradelab has variety of product which he offers to its various client. You can check thier site .
Not only PI, even the mobile app and web platform is a copy of kite app and kite web in SAS Online…
One good thing with SAS Alpha Trader app is you can see both actual market price and chart in the same page whereas in kite you need to go back and forth. If you keep 5 min heikin ashi chart, chart will not show the exact market price. There will be variance… This can be viewed in Alpha trader in the same window.
I have a dormant account with SAS, glad to see they are making some real progress in the last 9 months in terms of platform variety, Just had a look at the new WEB platform, with inbuilt alerts and unlimited trading for a flat-fee this could attract the attention of day-traders.
Screenshot of SASonloine web app platform: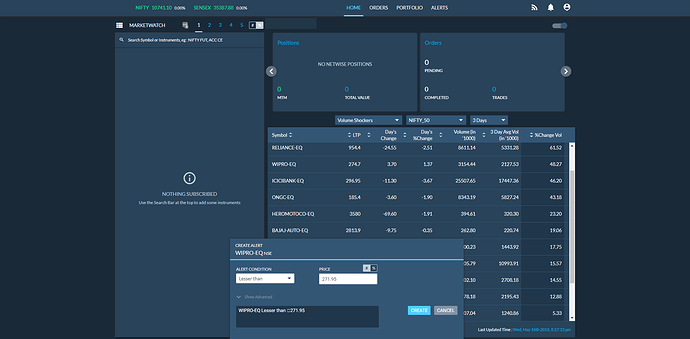 And YES, I am surprised it looks like kite on the inside.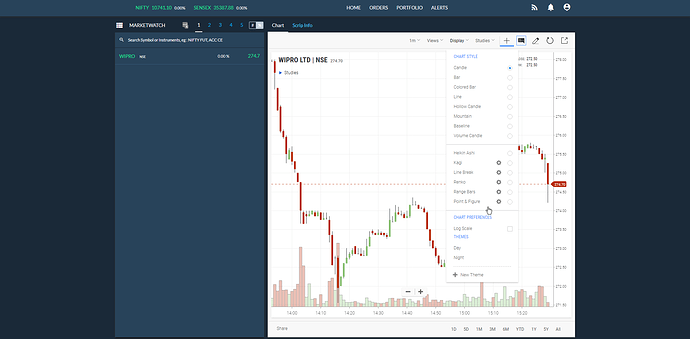 The UI looks like a mix of upstox and Zerodha kite
Yeah, Best of both worlds. Everything what kite is missing is there in this, and everything what upstox is missing is there too.
Something like, made to order.