Will NSE remain closed tomorrow , Wednesday May 1st ?
Yes, on account of Maharashtra Day
So CDS will also be closed I guess?
Why this holiday called maharastra day when we all know that 1st May is celebrated worldwide as labour day or May day?
1st May is also a Day when Maharashtra got separated from Gujarat. Earlier it was part of Gujarat. So, 1st may is Gujarat Day and Maharashtra Day too.
Ok thanks for reply, but I think it's prudent to say that NSE/BSE's closure is due to May Day/Labor Day, Maharastra Day may be a coincidentally fall on that day.
Nope, There is nothing to do with May Day/Labor Day. As it's an ancient European spring festival not related to India.
Check this Official Holiday Calendar of NSE. It's mentioned as Maharashtra Day only.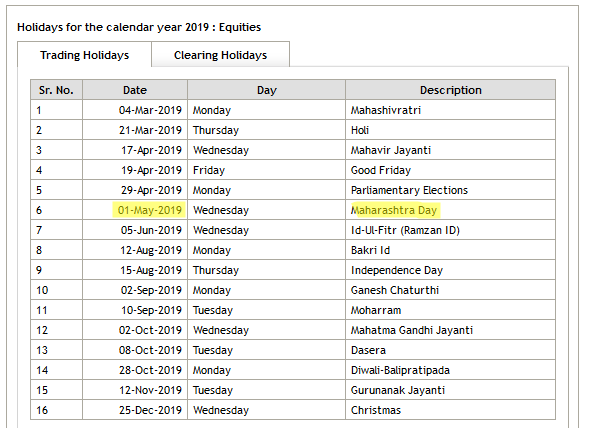 Source
Same way, BSE has also notified this as Maharashtra Day only.
BSE Holiday List

Oh ya I have seen that, but still May day is observed by majority of Indian states than Maharashtra day (celebrated only in Maharashtra), I don't know is there specific reason to mention it as a Maharashtra day instead of May day.

NSE BSE Located in maharashtra.
why would they mention maharashtra day?
i wonder i wonder i wonder