And what are your views on Virinchi?
Yes I would. Most of the jobs are outsourced anyway. In the long term most of the business would move to other countries like Canada.
This is kinda out of my area of expertise but I still will venture to answer.
3 points:
1- This bill/proposal has a slim chance of becoming a law because major US giants (Facebook, Amazon, Google, AT&T… etc.) will aggressively lobby to block this bill. These US companies have much more to lose if the bill passes than the Indian IT companies.
2- Indian companies have been reducing their dependency on H1 for over a year now and this drive will only get accelerated during the Trump presidency. Therefore, even if the bill passes, Indian companies would be sort of prepared for that. And the stock prices might just see a sentimental down-tick before bouncing back.
3- The stock prices of Indian IT companies (especially Infy) have been beaten down over the last year in anticipation of all these headwinds so the P/E multiples are already very reasonable (10-14). Infy has already witnessed accumulation in recent times as delivery stats have gone up (as soon as it crossed 1000) and the weekly charts look to be well based out.
In view of all this, I think IT might look attractive to long term investors (like mutual funds) and the sector might be bottoming out as we speak. Now, I can't say that these stocks will see the glory days of 2000s but there seems to be an upside from the current prices.
From a trading standpoint, I don't see much action because of this news (may be for a couple of days) so I am going to just wait n watch but investors might be looking for a turnaround story in these companies.
Cheers!
~Neha (www.VRDNation.com)
@Neha_Raghuraman What is your opinion about TechM? It mostly deal with European clients.
Sorry for late reply, raheel265.
Technically speaking, TECHM is clearly in an uptrend (higher highs and higher lows). So may be yes, the Europe factor may have something to do with this
Cheers!
Neha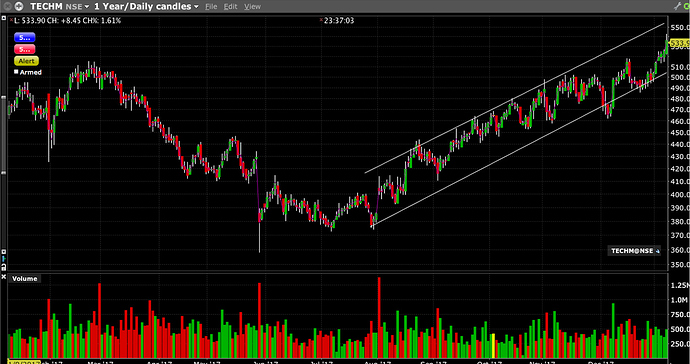 Hello neha madam. Long time. Are not trading these days?
What about your VRD Sir?
I am trading but currently busy with some other administrative stuff therefore couldn't post as much in the past few days. I do login to catch up on what's going on here

I should get back to normal in a few days.
VRD sir should be joining soon too. Right now, he is working on a YouTube series for people who want to learn Amibroker from scratch. A lot of non-technical folks are intimidated with AmiBroker (& AFL) therefore he is coming up with easy to follow videos so that those people can design their own algos. I am sure he will enjoy being a part of this community as soon as he's done with that.
Cheers!
Neha
Thanks @Neha_Raghuraman ma'm. Shorted position at 530