20-20 ok , coming in market 9999 lifetime(20years) in alice blue broker…like same/relevant plans in zerodha possible?
The whole idea of charging flat fees per executed order is that the cost of executed order doesn't go up with the size of the trade. So if someone buys 1 lot or 100 lots, the effort that we put is the same and hence charge the same.
Coming to the fixed monthly,yearly or any such plans, the effort put from our side will not be the same, if 1 person does one trade a month and another does 300 a month. We think it is a flawed business logic and unless a brokerage firm also makes money, how will the business survive? If the business doesn't make money, how will the business build on technology?
So, no we don't have any plans to offer fixed monthly/yearly/lifetime fees. We plan to build and give the best trading/reporting platforms without increasing the cost of trading with us.
 I do have or had account with many brokers in India,
Barring few like RKSV,ZERODHA  others having very high brokerage or less Transparent or poor service.
the best part of Zerodha are very transparent,low brokerage, and quality service...Trying new brokers is like wasting of time and Money.
long story short....ALICE BLUE? low quality people
​Alice blue Calc                                                                  Zerodha Calc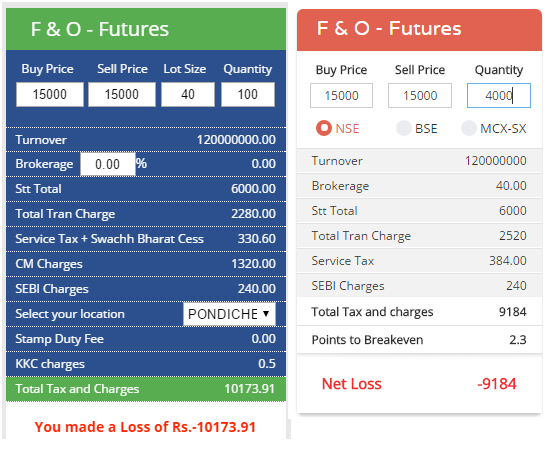 How come ALICE BLUE Charge Rs.1000 more than Zerodha?, but they are claiming no brokerage account? 
They are cheating in the name of CM charges...there are many brokers like Alice blue who are trying to find new way of cheating people......Zerodha is a GEM!!!!!!!!
In zerodha Calulator Stamp Duty as per the State is not Included, it is additional
Even in Alice blue it is additional for some other state, Thats Why I added Pondicherry in Alice blue calculator. (Pondicherry has no stamp duty)… for transparent comparison …
Do you have any idea how is Finvasia making money - they don't charge any brokerage and there are others who charge flat monthly like tradeplusonline - 99 Rs. per segment - parent company is full service broker - Navia ?
@siva @ShubhS9
I am not critical or sarcastic about Zerodha …I am really curious as to their business model …is there any other income like some rebate/incentive from exchange (that is what Finvasia said-I think)
What platform they offer to trade?
Finvasia trusted ? Will it become like Karvy ?
Finvasia, even though I haven't used seems legit. Their trading softwares are atleast suited for day trading.