Available now, right top panel of Q.zerodha.com. Click on AADHAR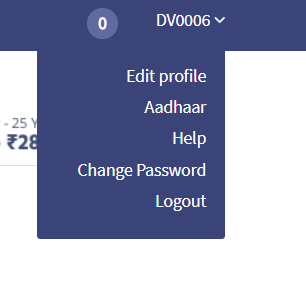 What about ILFS DP ? They also have sent mail to me , I am done with Zerodha Aadhar KYC. Should I still send forms to ILFS ?
Does it apply to Corporate account also?
Can you refer to this thread for information on Non- Individual accounts linking Aadhaarith Trading Accounts
@nithin What is the last date for linking aadhar?
When zerodha send a threatening mail telling that the account will be suspended if not linked with aadhar, please have the courtesy of mentioning the last date. As you may know, SC bench chastised banks and mobile phone companies for sending panic-inducing messages to customers in a recent hearing related to aadhar.
I would appreciate if you also link the appropriate order from the regulating bodies in such mails as well.
Hi Nithin, I've tried to link my Aadhar several times today, but the session creation link fails all the time. And what's the last date?
i have problem that my mobile no not linked with aadhar so can not link aadhar but i opened account in sep,17 with aadhar and pan card copy. ok i have no problem to link but if zerodha start other option like sms system or only aadhar no updation without otp option with registered mobile no. sharekhan using sms based system. more this aadhar issue is still subjudice.
i also have account with fyers and tradesmart but they still to send this messege.
this aadhar linking may apply for those who open account with voter id or other documents(not aadhar)
but registered mobile no is must to link aadhar. i dont have that. better to impliment
sms based system or offline method. beside i opened account with aadhar card copy in september,17. then also again to link?
any way many broker use sms option to link eg AADHAAR 12 digit aadhar no and send to specific mobile no as done by sharekhan.
still the aadhar matter also subjudice and the messege got if not linked with aadhar account will be deactivated. it is a panic situation. those dont have aadhar or registered mobile no sud be in a panic mood . also any reactification in aadhar centre take long time
My aadhar is not linked to any mobile number or email address. How am I supposed to link aadhar with demat account?
Please inform if there is an alternative way to link aadhar with demat. If not, then I will have to sell all the stocks and mutual funds.
Hey Aditya, you will have to visit a nearby Aadhar Seva Kendra and get your number/email updated. Actually most of the banks have started doing this and it hardly takes about 5 mins. You can check with some banks nearby you.
I have many friends who have not got email about the aadhar update from zerodha even when i got it.
Can someone ensure now that mail containing steps to update aadhar is sent to all zerodha account holders?
I reported the same issue to Zerodha support. They told to use this link to upload soft copy of aadhar.
https://q.zerodha.com/aadhaar/upload/
I had uploaded the copy but I have not got any acknowledgement for successful linking.
any way that is better step as many ppl dont have registered mobile no with aadhar and if u want to update it may take more than one month and some time it also rejected
i also sent aadhar no to sharekhan but still no confirmation but may be acknowledged latter any way thanx for the link as i can not see the link inside q. i have done also.
zerodha will chek the authenticity by aadhar database and may confirm latter
Is there any new deadline issue by govt. to link Aadhar with demat or mf instead of 31 Dec to 31 march…
As I am not going to link it soon.
@nithin I am getting some mails from CAMS and KARVY that I should link my Aadhar to my invested Mutual Funds, and I did it though your platform and also did through them but I got a mail where they have showed me which Mutual Fund folios are linked. But as I can see I cant see all the Fund houses name in that list. So my question is if have linked my aadhar no. through your platform do I have to do any further exercise or is it sufficient?
Hi Sabyasachi,
If your Aadhar is already linked with your Demat account, then the same will be applicable for your Mutual Funds investments made through coin platform as the units are in the Demat mode.
So kindly ensure that your Demat is Aadhar linked. If yet to link then kindly follow the procedure mentioned in this link.