Morning I saw a tweet on WSB and even in the remote possibility didnt expect it to be on Adani.
Interesting to see this news right before the 20k crore FPO.
Adani grp stocks are already down quite a lot from last few days.
Is this again a case of rumours late near the end of correction or will this will lead to bigger cuts?
I really doubt anything will happen. Some red for a couple of days. Hindenburg makes some money and everyhting is back to normal. Everyone is probably aware of this SEBI, DRI, Indian News Channels but nothing substantial is going to happen.
Hey @Chirag1 please check who posted first. May be it will give u better picture…
I'm sorry


older threads usually have more traction.
From 56min onwards, about relations and the schools example story. I didnt know about this. Brilliant stuff.
"Kuan hey Yeh log, Kaha se aathe hey yeh log"
T : Who are these people, Where do these people come from.
Low price band is 3112. SPOT is 2800.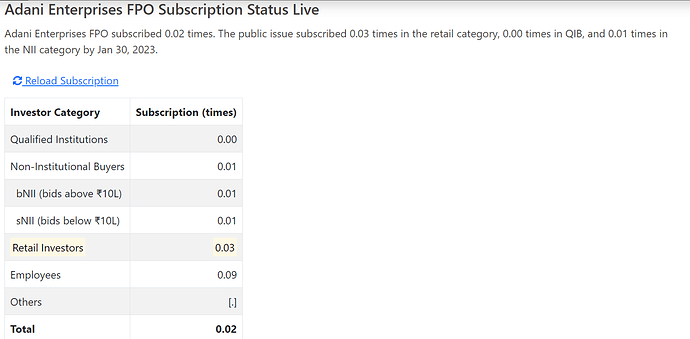 Same questions popped up in NDTV open offer. In open market, people could have sold for 1.5 to 1.75x of open offer price. Still God knows who tendered in that open offer. Adani is always mysterious group.
Quite an interesting interview with the CFO or CEO of Adani.
It seems the FPO will sail through as it provides flexibility even if Retail participation is minimal as they can switch to other institutional investors. I think they have tied up with big names and hence the FPO will go through (I think after watching this interview)
This Hindenburg Research is attacking India.
When will Govt do surgical strike on USA ?
LIC/SBI will squeeze shorts of Hindenburg by pumping money into Adani Group.
Stock market surgical strike
Good. I hope you will also help with the surgical strike by heavily investing in Adani stocks.
No money. Account blown up already.

You seem very happy that you have no money and even more worrying is that you are happy to blow up your own account.
You know you can just gave your money if you don't want it.
That's what we are all doing via trading. We want other traders to have the money

Can someone explain me how there is heavy subscription in FPO (>80% already) when the floor price is greater than LTP. Why cant they simple buy on open market.
what is Retail people missing out here. I understand you need not pay the full amount now but that cant be the only reason to apply and get allotment to pay above market price