can any users please review in terms of reliability and execution quality?
Forget about the reliability and execution quality,
they are not even able to open my trading account from past one month.
The process which is done in matter of 30 odd minutes in Zerodha has took me 1.5 month and it is still pending with no seemingly possible resolution.
Zero customer support, just the task is passed on b/w teams.
Best of luck in getting your account open.
And for order execution you will need god's hand on your head.
see this thread…first mail is on 2nd may, today is 2nd June, and they have no clue why their site doesn't allow me to upload document.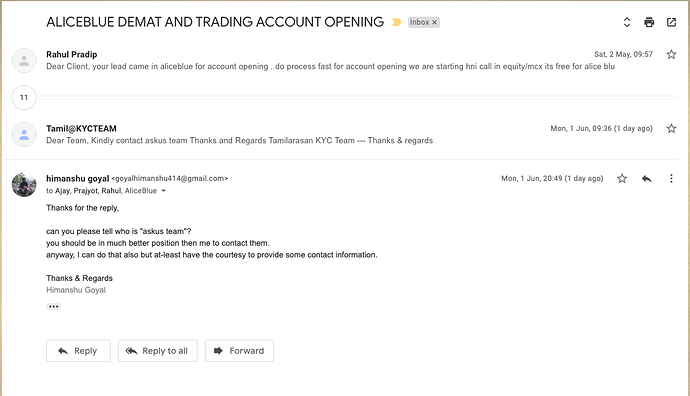 There is no broker in the Industry who are

correct and works as expected. Even zerodha have issues from time to time, that doesn't making ppl not to use Zerodha. Zerodha is more reliable in money handling and regarding execution they are not even near to Industry standard. They may handle millions of requests per day, but that does not qualify for them to be considered as default broker for opening account. If you have problems with Alice blue and if they still does not respond, I would suggest you to find an alternate and move on.
I have 2 main requirements which zerodha can't satisfy:
more lvg for MIS positions
otm strikes
Could you suggest a reliable broker in your experience?
Not Worth it.
I am glad I opened an account and experimented.
The only good thing about AB is the RM, who does all the troubleshooting for you.
Can't get my head around how all these f**kall brokers can give heavy leverages but zerodha won't…very frustrating
I've recently opened account with them just for option selling as they give more exposure which is 5x for expiry day and you can pay 0.03% of your capital as interest if you want 10x margin exposure on expiry day which is around 300INR for 1Lac of capital.
My account was opened in 2 days, everything was done online. i was skeptical at fist as i've never heard of them before but it's working good for me. at first i had some queries regarding brokerage (they have 2 types of brokerage plan) and i wanted to change the plan the very next day of account opening and i called them at 11 at night! yes at night and they responded very nicely. Till now everything is going good for me.
Let me know if you have any questions.
True! if i get same exposure on zerodha, i'd close my account with alice as that was the only reason of going with alice to sell options on expiry. for rest trading i'm with zerodha only.
Please keep posting your experience there- good, bad and neutral
Their platform is no where near Kite.
Kite mobile is certainly best in class.
Charts can go horribly wrong in ANT
If you are selling options especially on expiry day, I think you have chosen the right broker.
You can use kite charts for analysis though
Please keep posting your experience there- good, bad and neutral
Sure, will do that.
Their platform is no where near Kite.
that's for sure! zerodha's platform is smooth and simple for me too. Alice also gives screener for top gainers, losers, stocks near 52W high/low etc so that might be a plus for someone.
Kite mobile is certainly best in class. as said above, there's no comparison
Charts can go horribly wrong in ANT For charting i use tradingview not on zerodha but on their site itself as i can add custom scripts there.
If you are selling options especially on expiry day, I think you have chosen the right broker. haha, using alice only for option selling. the day when zerodha offers same exposure i'm going to close account in alice as it's easy to manage trades from one platform rather than monitoring two at the same time.
ICICI Direct the leverage is very high and brokerage is reduced now a days. But its still going to be high when compared to zerodha.
yes charges will be higher, will calculate how much i can bear…you're a user too?
@siva please look at the last point…that is the prevailing sentiment among many traders, upto you guys now!
Hello
I've been using Alice from December 2019.
My observations:
Good:
Margin exposure - 10x margin on Friday, Monday, & Tuesday
5x margin on Wednesday & Thursday, with option to get 10x on Thursday by paying extra.
ANT platform - this is good if you're on a desktop.
Good customer service - faced few issues with margin updates and got them resolved in few mins with a phone call
Quick and complete a/c opening process
Bad:
Not so great ANT Mobile platform
Their ANT Web page is glitchy.
In summary if you're looking for high intraday exposure, Alice is a good enough broker.
okay…thanks, so you're using it currently?
i am not favour for high leverage like 10X , because high leverage will wipe out the account one day , I seen lot of people in my 10 years journey its will wipeout blink of eye in one day , i really scare about that ,
Zerodha is giving very low exposure i agreed 2.5X is low , @siva zerodha can provide 4X as reasonable to clients as RMS
Motilal agreed to me give 20X leverage for me , but i never use , i dont want this much leverage in market , because the RM told to me for us giving no problem , in sudden volatility you account will wipe out , and SL and SLM wll not trigger on your rate , so my advise is take less leverage he personally advice me
People just want to jump on high leverage bandwagon thinking it will give them sure shot profits, all this while forgetting leverage is double edged sword and like you said can wipe ones account clean instantly.
Yes sir, using it currently.
I completely agree to this.
Will share my personal experience. I was very happy to start trading with 10x. I was using 20k in that a/c and was trading only intraday futures.
I was being very careful in the beginning properly, not over trading and all. Suddenly the stupid inside me, did not want to close the day with a negative balance. So went on over-trading mode. Though my profit was showing some 3-4k, I was paying most of it as taxes and brokerage. My net profit for that day was only 1k.
And on another was close to blowing the entire capital in that a/c, again this was due to the temptation that its only a small amount.
So it works either way, when you are able to manage risk and get out in profit, its good. Bad part comes when your winning streak fails and enter the phase where you're in losses.
It's only good for people who want to trade futures with small capital like 10-20k. Again, if that's good or not is a different discussion altogether!!
Cheers.
Hello
Does Alice blue really provide 3x margin on Option buying, I just came across their website showing it.
I haven't seen any broker providing leverage on options buying.