Please share your intra day trading strategy
I use 5 mins tf… Chk top gainer at 10:15
I wait for macd positive crossover…then when supertrend gives buy signal, I punch buy order on high of signal candle…
While exit or short… Wait for macd negative crossover and when supertrend gives sell signal punch sell order on low of signal candle… I don't put sl in system as soon as I enter trade as operators play with it… Put only in mind… Works for me 60%

Chk this… I bought at 427 when supertrend signal is buy, macd crossover positive…
Sl in mind is 425…


Buying…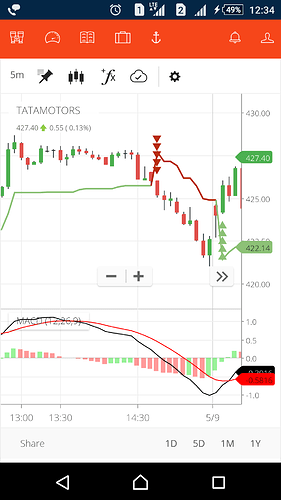 Current…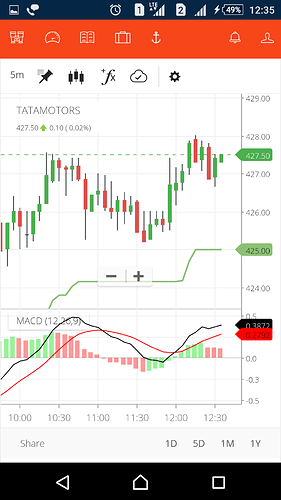 Dint work today… Had to exit at 426 as bearish crossover on macd… Supertrend sell signal given and price goes below signal candle low…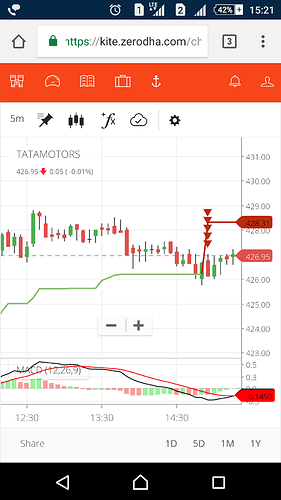 I have a very simple strategy to trade intraday based on short term trends.
Note: do this study on daily charts only - not on intraday charts, though you will trade intraday.
I put a 3 ema line on my charts, and RSI 5 period with levels set at 60 and 40.
If price is above 3 ema and RSI is above 60, I buy. Sell at end of day or as per your profit target.
If price is below 3 ema and RSI is below 40, short sell. Cover at end of day or as per your profit target.
You will have more profitable days and less loss days if you follow this with discipline, and your account will grow.
When RSI is between 40 and 60, the daily price action is more or less in sideways trend, and I don't trade the stock then. I look for some other stock for trading.
I typically place a bracket order, with Stop loss at Rs20 ( as good as not having a stop loss), and I aim for target of 10% of my investment. If I invest 10,000, my profit target is 1000. I use the margin under BO, so my per share target is kept lower and I can exit the trade faster.
The 3 ema rule keeps me on the right side of the very short term or micro trends. This way, I don't need to look at the long term trend etc. You can experiment with 5 ema, or 8 ema too.
I reinvest the profits each day, and my 10% profit quickly multiplies due to compounding effect.
@nvs74191 How you select the stock and when you enter?
Please explain with an example of any of your recent trade.
I select the stock to trade based on a set of indicators I developed for an open source software called jstock. You can download the windows version and get in touch with me and I will mail my indicators to you.
The indicators just scan through the list of all stocks with mis margins on zerodha to identify stocks that are above 3 ema and with rsi (5) above 60 and give an output which I save into an Excel file.( Or price below 3 ema and rsi less than 40 to select stocks for shorting)
I then use formulas in Excel to arrive fibo levels of 50% or 61.8% for each stock and use that as my entry price.
Sometimes the stock doesn't retrace back to the level you expect, in which case I change my entry price suitably.
As I trade everyday, each of my trades can be quoted as an example. For today, I took a buy call on apollo hospital, though I entered a bit late at market price. I exited on profit target of 10%.
Yesterday was a losing trade on infibeam. Lost because I didnt follow my rules of exiting at 10% profit and entered at a wrong price. I was afraid of missing out on the trade, and entered a sell order at market price even though the price had dropped quite a bit. Then the trade turned on me. This is a common problem on days when a doji candle is formed.
Sometimes you enter a long position and that day becomes a losing day even though the trend is still intact. I am yet to find a way to avoid these trades or identify when profit taking can happen.
If we can put our heads together and generate ideas I would be very grateful.
And by the way, I also use one more set of moving averages to filter out sideways trend. I place a moving averages channel with 12 ema high and low prices, and avoid taking trades when price is between these lines. If you trade only when price is above the high ema line, you get a higher probability trend. For higher probability downtrend, look for price close below low ema line
I am bad at writing lengthy posts, so will stop here. We can talk on phone if you want.
This also looks good to me.
@nvs74191 Thank you for the detailed reply and the details of your sample trades in winning and loosing scenario. For understanding these trades in details can you please provide me the following
Date: 10 May Apollo Hospital Entry price:? Time of entry:? Exit price:? Time of exit: ? Long/Short ?
2.Date: 9 May Infibeam Entry price:? Time of entry:? Exit price:? Time of exit: ? Long/Short ?
Now all you have to do is just wait for the breakout. We initiate a BUY on the next candle Open when the Price breaks out the upper range and closes above it along with Volume more than SMA-40.
@haribabu Can I enter if the second candle (9:30-9:45) breaks the high or the first candle, or I have to wait until the second candle closes above the high of the first candle?
If I have to wait until the second candle closes above first candle, then I may not get a proper entry. Because sometimes second candle will be a very long candle.
Please clarify…
Thanks for your interest. This is what happened in the last 3 days (including today)
Infibeam 9th May
short entry : 983 (sometime during the first 3 minutes) exit 993 at around 10 am (Manual square off since target was not hit and reversed direction. Booked a big loss.
Apollohosp 10th May
Long Entry 1280 Exit 1285 (BO, target hit and squared off) Trade closed during the first 3 minutes.
Today's trade
Short entry on Infibeam @ 1012
Exit 12:57 @ 997
(Manually exited when profit reached 28% as I had to go out on some work. I had a feeling today will be a down day, so I set my target exit price pretty high (RS.50, in fact).
Infibeam is susceptible to pretty big price swings intraday, so I keep a wide stop loss and a big profit target so I can exit when I want. Otherwise it is an unpredicatble stock to trade. On two previous occasions I had my stop loss being hit when i was not watching, so i decided to keep a wider stop loss of R.20.
This is a stock which almost always gets you in on the 61.8% retracement, with its big price swings. A mistake I made was not being patient to wait for the retracement, and entering manually. Big emotions are at play in the first 5 mins - when the trade goes in your direction you feel you are missing the entry, or when the trade goes against you , and you feel you have called the direction wrongly. Difficult to trade, but rewards can be big.
That is based on individual choice and how long you are going to hold. It is always better to wait for at least two candles. Third breaking first two with high volumes. You can also look for previous day's high/ low. If it is broken in the first two candles then you can enter. Else wait till first retracement and then enter. That is safe.
Hi
I have downloaded the JStock software. How to get the indicators ?
Please help.
Thanks in advance.
Send me a mail on [email protected]. I will reach it to you tomorrow evening, as I am travelling.
Hi Nvs,
I would like to get in touch with you.
I would like to take advantage of any knowledge you'd freely share… esp with tech candles/ fib/ chart reading.
My number is 9886746147
John
Sure John, my number is 9047022314.
hi . buddy can you completely be dependent on chart and studies for intraday ?
As I am new to intraday trading i have had many loss .
can you tell me which stocks to buy for intrday and what should be target and at what time should i start my intraday trading .
I would be glad to hear from u.
does the supertrend gives indication on minute chart also ?
but can really be all dependent on the indicators ?
and how do u select stocks ?
which stocks should i use for intraday
which r 3 different EMA charts at what periods ?