Hi All,
i am new to this and would like to share something i noticed based on the various sources i have read.
Let us say one in interested in investing (not trading) based on NIFTYBANK index.
One of the simplest ways to do this would be to simply buy one of the many ETFs available.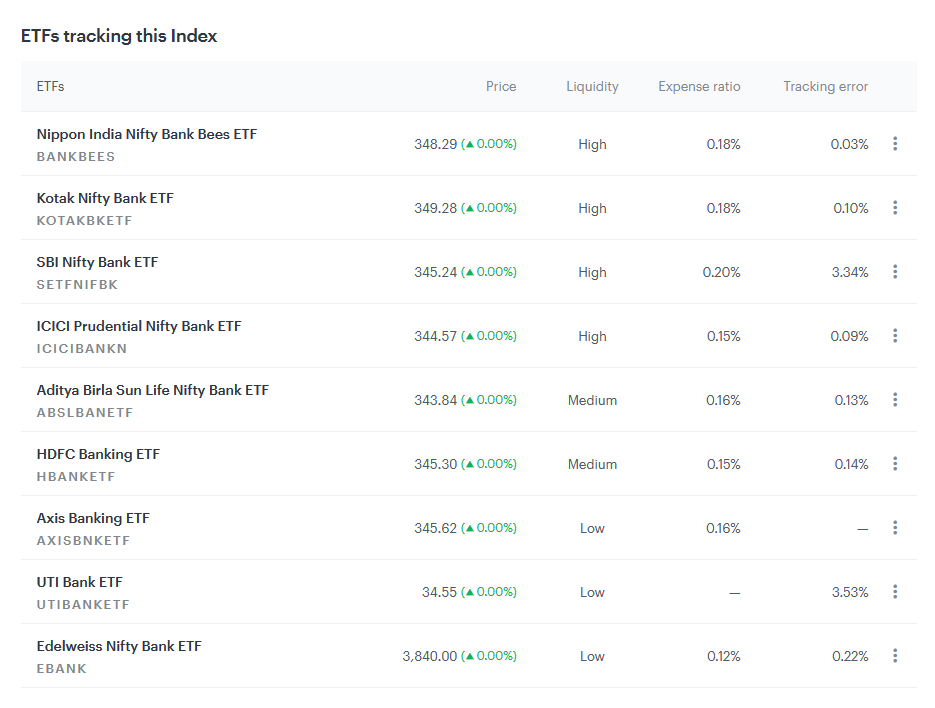 Currently, among the NIFTYBANK ETFs with High Liquidity,
ICICIBANKN ETF appears to be the one with the lowest overheads (Expense ratio) .
Also, when investing over the long-term,
i assume a lower liquidity may NOT be a major concern,
i.e. when selling/exiting after several years, one can afford to wait a few days.
EBANK ETF appears to be the ETF with the lowest overheads (Expense ratio) overall in this bunch.
Thus, if one wishes to invest Rs. 1Lac into one of these 2 NIFTYBANK ETFs,
the current expense ratios of 0.15% or 0.12%
effectively amount to Rs.150 or Rs.120.
---
Alternately, one could purchase and hold
all the constituent 12 stocks of the NIFTY BANK index
in the same ratio as the NIFTYBANK index.
It appears that Smallcase makes it extremely easy to do this.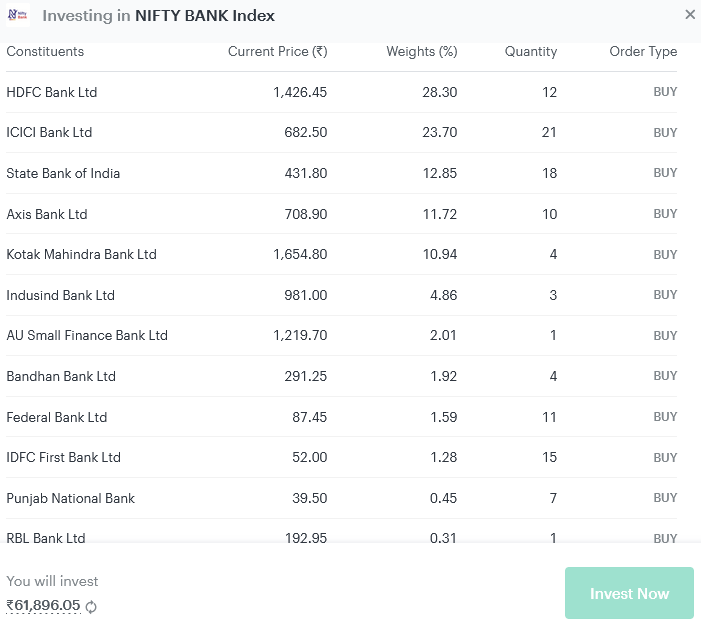 As one cannot purchase fractional shares,

A minimum amount needs to be invested to purchase all the constituent stocks of the index.
(in this case Rs.62K).

The ratio of the stocks in the index vs. ratio of the stocks purchased is slightly different.
(in this case, <1% point for few stocks).
For an investment of Rs.1Lac,
the charges of purchasing a Smallcase = Rs.118 (100+GST)
amount to 0.118% overhead.
Thus, for an investment of Rs.1lac,
the expense overhead of manually creating and purchasing a Smallcase
is nearly as low as the ETF with the lowest expense ratio (0.12%).
---
Advantages of holding individual stocks (instead of an ETF) ?
Can get higher exit/selling prices of a stock with poor fundamentals that will be removed from the index
by rebalancing the stock holdings manually (selling off the underperforming stock) , sooner than the index.
Note that NIFTYBANK is rebalanced ONLY once every 6 months.

What other advantages can you think of ?..
Disadvantages of holding the individual stocks (instead of an ETF) ?
Need to manually purchase/sell individual shares in reaction to any changes in the index.

Slightly lower exit/selling prices than what the ETF gets (as one would be reacting to popular sentiment).

What other disadvantages can you think of ?..