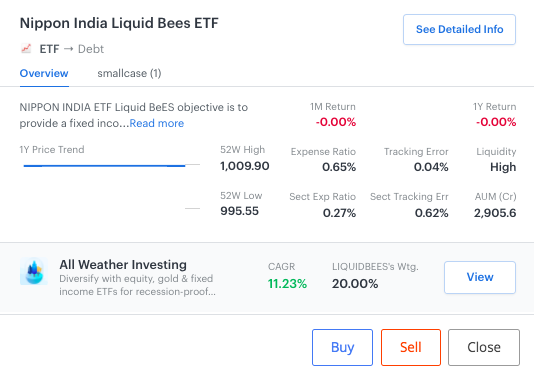 The expense ratio of the ETF is 0.65% which is already on a higher side.

If you invest in Liquidbees you receive dividends in the form of units. But the catch is you can't sell the fractional units in the secondary market.
Zerodha support mentioned the process to sell fractional units as under:-
Please note, Fractional units can't be sold on the secondary markets (exchanges). You will have to make an off-market transfer to Reliance mutual using DIS slip. Click here to know the exact procedure to redeem fractional units of liquidbees.
To know more about Liquid ETFs check out this post on TradingQ&A.
You will be charged Rs 100 + GST for the DIS booklet along with courier charges of Rs 100 + GST (the first 10 leaves are free) and 0.03% of turnover or Rs 25, plus 18% GST, higher of the two per ISIN for the transfer of shares.
Total selling cost =
DP charge of Rs. 8 + GST + Total 200+GST + Postage charges to send documents to Zerodha HQ + Time Cost in execution.
Talking about the returns of Liquidbees, it's about 3.5 - 4% which is below average. Not to forget, the fractional units remain unrealized because you can't sell the fractional units. Moreover, you keep paying an expense ratio of 0.65% for the fractional units. And if you sell the fractional units using DIS slip, you pay a heavy fee which you have to subtract from the profits.
So the real returns are always less than what you think.

If >Rs 5000 dividend is received, there is TDS applicable.
When you consider all these points, does it even make sense to invest in Liquidbees at all?
A. If I want to keep funds safe, I can rather put that money in bank FD with fixed higher returns than Liquidbees, where I can withdraw at the click of a button and add money to my trading account immediately. Also, note that funds in a bank up to 5 lakh are secured by DICGC insurance.
B. If I want to invest in Liquidbees to pledge it for a margin, I can rather invest that money in an overnight/ Liquid Mutual Fund from the approved list of securities with a lesser TER, same 10% haircut for margin and same or even a little better returns. At least I would be able to redeem fractional units with Zero cost. Also, MF transactions have Zero DP charges as an advantage.
I would repeat my question once again, why would I invest in Liquidbees?