Closing price is calculated as the weighted average price of the last 30 minutes, whereas the LTP, as the name suggests is the last traded price..
I've illustrated the same below...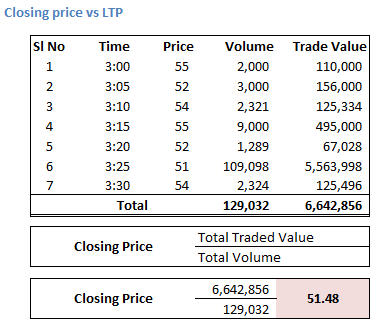 If you notice, the LTP in our example is 54 (@ 3:30 PM), but the closing price is 51.48. Also, if you see the volumes, the big ticket order 3:25 PM actually skewed the closing price.
A lot of trading stratgies actaully consider closing price as a key input for entry or exit...one way to ensure that your price is as close to the closing price is by slicing up your order and trading every 5 mins..
For example your idea is to buy 100 shares at closing price...instead of buying all the shares in one shot..buy 15 shares every 5 mins...in that way your trade price will be as close to as the closing price. 
Wighted Average Price (WAP) Calculation
---