If yes, please also mention the new features introduced in the update.
Hello,
Yes, an update on Pi has been released today, 15th May 2017.
To update your Pi, go to Help > Check for Updates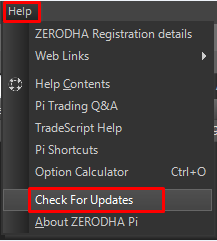 The Pi updater will show you that a new update is available. Select Update and the updation will complete automatically.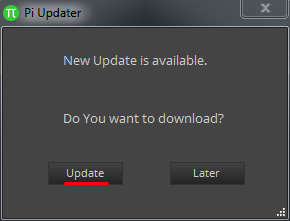 The new features introduced in the new update of Pi are -
Continuous NFO FUT daily data from 2010.
Weekly and monthly charts can be viewed from opened charts.
Line charts
Spot currency pairs can be added to MW.
Quick market orders. View > User setting > Chart setting.
Zoom in changed to latest candles instead of center zoom.
Able to save space bar on MW.
Colour highlight of scrips on MW for Day High/Low and Year High/Low. View > User setting > Market watch
Please note: After the update, user settings will be reverted to default. You will have to save your seetings again. Please make a note of it if you have to before pdating Pi.
@BharatW What do you mean by spot currency pairs ?
@abhra
We trade futures of currency pairs but the futures are derived from underlying and those are refereed as spot currency pairs. For ex: we trade nifty futures but the underlying is nifty 50 index, we trade on reliance futures here the underlying is reliance stock.
@Team Zerodha,
Thanks for fixing the backTest charts.
Please roll out PI scanner AUDIBLE ALERTS on your next update.
how to add spot currency pair in marketwatch?

Select 'UNDCUR' in the CDS segment. It will load up all the underlying spot currency pair values in the dropdown.
thanks bharatw for replying
UNDCUR option is not showing in pi. i have updated the software and no new update is available
I have not yet updated it yet. but, can you add watch list similar to FATAFAT scanner ?
Also display funds, realized profit on top of menu bar no need to open it and see as shown below


Also Watch list as shown below
@haribabu
We are working on custom columns and will likely to be available in coming releases but not in this update.
have you fixed the 'register_chart.bat' problem in this version?
in the previous version i had to run "register_chart.bat" to open chart correctly everytime.
Also need option to see, if it is buy/sell on supertrend.
Supertrend Scanner would really help.
I have updated the Pi.
Pivot Points Legend should be displayed on right side of the chart.
When I load Continuous Chart for Futures, then Template is not applied. i have to do it manually.
Continuous Charts are only for Daily Time Frame ?
As i came to know, we have to manually apply the template in continuous charts. for monthly and weekly, you have to apply two steps. > open the chart of any time frame such as 30 min. 60 days than > after chart open go to time frame select the weekly or monthly with max. duration as per your need.
@haribabu
Ya for now only for daily time-frame is available, soon we will provide for hourly also, but if you want for minute timeframe then you can use regular contract as that should meet the requirement.
When I try to update from Pi … this is what happens
I get this error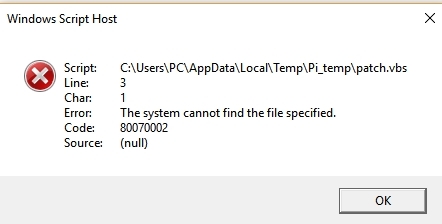 And at the same time Norton picks up this virus?


More Norton details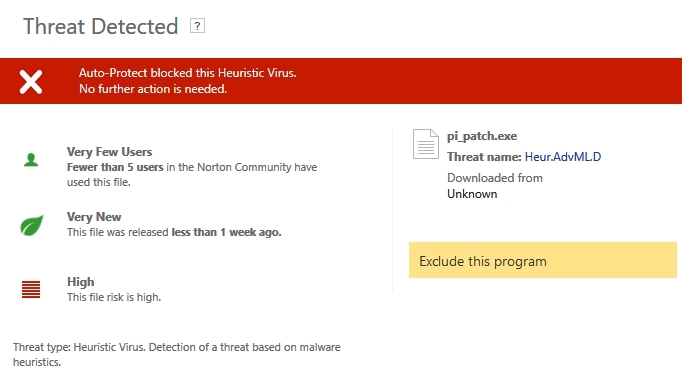 Q still shows version available as 1.0.0.6


Using Windows 10
Please advise how to update?
disable antivirus before install.
Was able to update after disabling Norton.
But Pi still shows same version, 1.0.0.6 though date is updated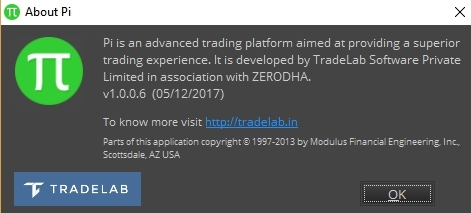 Just check the date of release by going to About Pi under help menu. It should be 12th may 2017.